Welcome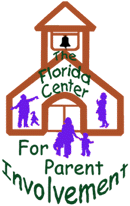 The Center for Parent Involvement (FCPI) was funded by the U.S. Department of Education; Goals 2000, Educate America Act from 1994-1999. Guided by an advisory board of parents and professionals, the FCPI's goal was to tap the power of parents.
The FCPI gathered information on parent needs, coordinated the information, and created a series of resources organized by theme, including fact sheets for parents and professionals, "Beyond the Basics" resources, and resource identification lists. Many of the resources have been translated into Spanish language versions, and every effort has been made to preserve the meaning and flavor of the original English documents. This series of materials provides a wealth of current information for both parents and providers. The staff of the FCPI are hopeful that their work will continue to help children get ready to learn for many years to come. The series' themes include:
The Center was one component of a project led by Hillsborough County Center of Excellence in collaboration with the Department of Child & Family Studies at USF's de la Parte Institute and the Florida Children's Forum. Other project partners include HIPPY (Home Instruction Program for Preschool Youngsters), Hillsborough County Head Start and Hillsborough County Even Start. For more information about these projects, call 813.974.4612.
© 1999, Tampa, Florida
This is a publication of the Florida Center for Parent Involvement which was funded by the U.S. Department of Education. The opinions contained in this publication are those of the grantee and do not necessarily reflect those of the U.S. Department of Education. All or portions of this work may be reproduced providing the Florida Center for Parent Involvement, Louis de la Parte Florida Mental Health Institute, University of South Florida is properly credited on all reproductions.