Youth Suicide Prevention School-based Guide: 2012 Edition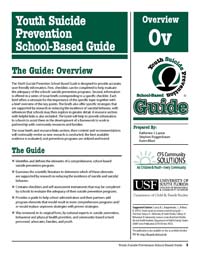 Keywords:
Youth Suicide Prevention
Contact:
Abstract
The 2012 Edition of the Youth Suicide Prevention School-based Guide is now available online and printed copies can be purchased for $20. Designed to provide accurate, user-friendly information for school administrators, staff, and faculty, the Guide:
Defines the elements of a comprehensive, school-based suicide prevention program.
Examines the scientific literature to determine what works in reducing the incidence of suicide.
Contains checklists that may be completed by schools to evaluate the adequacy of their suicide prevention programs.
Attempts to provide what research and exemplary practices have found and suggest about
issues related to adolescent suicide prevention.
Visit http://theguide.fmhi.usf.edu for the online version and order forms for print copies.