My Health Passport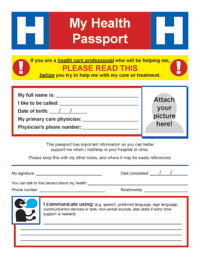 Keywords:
individuals with intellectual and developmental disabilities, hospital visits
Contact:
Abstract
My Health Passport is a document that should be completed by an individual (and/or their caregiver) to describe important aspects about their special health care needs.
My Health Passport was designed to be shared with many types of healthcare providers, in clinic and hospital settings. It is especially useful for providing pertinent information to those who are not very familiar in providing care to individuals with intellectual/developmental disabilities.
The forms are available for download. They can be printed as is, or the information can be typed in before printing. English version| Spanish version.