Compound Caregivers: Overlooked and Overburdened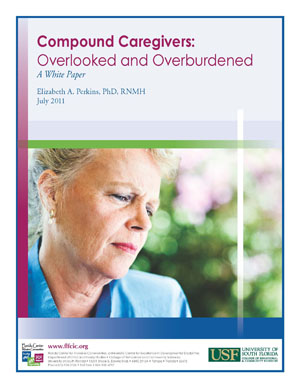 Publication Link 840KB
Keywords:
older caregivers, caregivers, adults with intellectual disabilities
Contact:
Abstract
This white paper, authored by Dr. Elizabeth Perkins, discusses the challenges encountered by older caregivers of adults with intellectual disabilities when they are simultaneously caregiving for other aging family members. The white paper is an attempt to alert policy makers and service providers alike of this emerging trend among lifelong family caregivers and offers recommendations for how to increase the availability of supports to assist these very dedicated but overburdened individuals.
Citation
Perkins, E. A. (2011). Compound caregivers: overlooked and overburdened [White paper]. Tampa, Florida: University of South Florida, Florida Center for Inclusive Communities.

Perkins, E. A. (2011). Compound caregivers: overlooked and overburdened [White paper]. Tampa, Florida: University of South Florida, Florida Center for Inclusive Communities. Retrieved from http://flfcic.fmhi.usf.edu/docs/FCIC_CompoundCaregivers_070811.pdf