Florida Mothers and Babies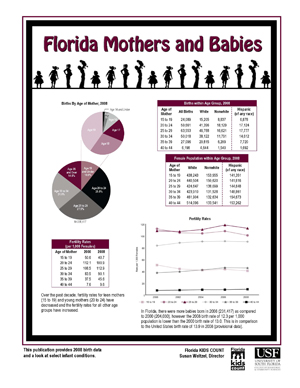 Keywords:
teen mothers, repeat births, healthy start screening
Contact:
Abstract
This publication provides 2008 birth data and a look at select infant conditions. Findings include:
Over the past decade, fertility rates for teen mothers (15 to 19) and young mothers (20 to 24) have decreased and the fertility rates for all other age groups have increased.
In Florida, there were more babies born in 2008 (231,417) as compared to 2000 (204,030), however the 2008 birth rate of 12.3 per 1,000 population is lower than the 2000 birth rate of 13.0. This is in comparison to the United States birth rate of 13.9 in 2008 (provisional data).
There were 6,293 (86.4%) mothers age 15 to 17 who had less than a high school education. By definition, most 15 to 17 year olds are too young to have received a high school diploma; therefore these mothers will likely require additional educational supports to gain a high school diploma or equivalent.
18.3% (4,405) of births to 15 to 19 year old mothers were repeat births (female with at least one previous live birth).