Increasing Utilization: Strategies for Engaging Culturally/Racially Diverse Children and their Families in Mental Health Services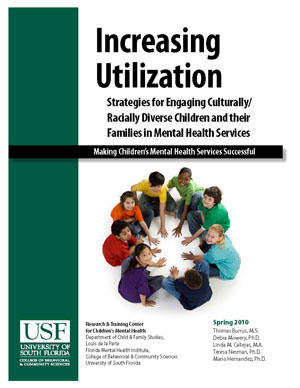 Keywords:
child mental health, cultural competent services
Contact:
Abstract
This monograph was developed to increase awareness of the impact of culture on the utilization of mental health services and to provide field-based examples of strategies that can increase utilization for culturally/racially diverse children and families.
The strategies outlined in this monograph are derived from a series of interviews conducted as part of a larger study of the Research and Training Center for Children's Mental Health at the University of South Florida (RTC, 2004). One of the primary goals of the larger study is to identify organizational strategies that operationalize cultural competence. The study's initial literature review of child and family mental health research identified strategies for increased cultural competence that could be linked to three key domains of service delivery:
1) accessibility,
2) availability, and
3) utilization, for culturally/racially diverse populations in the U.S.
(e.g., African American, Asian and Pacific Islander, Latino, and Native American) (Hernandez et al., 2006).
In addition, a review of cultural competence assessment measures identified strategies for infrastructure development that support cultural
competence (Harper, Hernandez, Nesman, Mowery, Worthington, & Isaacs,
2006). Findings from the literature and protocol assessment reviews were incorporated into a conceptual model that includes both direct service and infrastructure domains in organizational cultural competence development (Hernandez & Nesman, 2006). An illustration of the conceptual model is shown in the monograph and explained in more detail.
Citation
Burrus, T., Mowery, D., Callejas, L.M., Nesman, T., & Hernandez, M. (2010). Increasing utilization: Strategies for engaging culturally/racially diverse children and their families in mental health services (Making children's mental health services successful series). Tampa, FL: University of South Florida, College of Behavioral & Community Sciences, Louis de la Parte Florida Mental Health Institute, Department of Child and Family Studies, Research and Training Center for Children's Mental Health.