Real Manuals for Real Teachers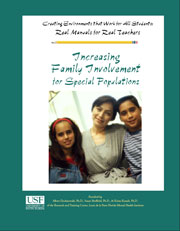 Keywords:
schools, special education, outcomes, fidelity, school based,
Contact:
Abstract
A research demonstration project was developed through a unique partnership of special educators, parents, administrators, and researchers, in order to increase the use of evidence-based practices in special education programs and to improve student outcomes. A major product of this project was the development of four teacher-friendly manuals that are guides to the implementation of evidence-based practices by special education teachers. A fidelity instrument was also developed to measure the level of implementation of these evidence-based practices.
Citation
Kutash, K. & Duchnowski, A. (2005). Real manuals for real teachers. Tampa, Florida: University of South Florida, Louis de la Parte Florida Mental Health Institute, Department of Child and Family Studies, The Research Center for Children's Mental Health.