Family Driven Care: Are We There Yet?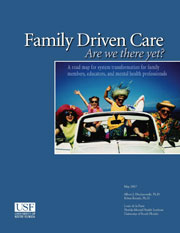 Publication Link 800k pdf
FMHI Publication ID:
245
Keywords:
family, family-driven, serious emotional, evidence-based practice, SED, school-based, schools
Contact:
Abstract
This report acquaints readers with the concept of family-driven care for children who have emotional and behavioral disturbances. From this context, the authors provide information about evidence-based practices that are effective interventions to help the children and their families. This information will help families, educators, and mental health service providers plan effective interventions for the children in their care.
Citation
Duchnowski, A. J., & Kutash, K. (2007). Family-driven care. Tampa FL: University of South Florida, The Louis de la Parte Florida Mental Health Institute, Department of Child and Family Studies