The Youth Suicide Prevention School-Based Guide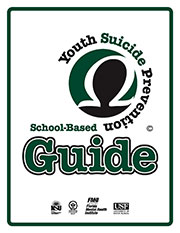 FMHI Publication ID:
218-0
Keywords:
Youth Suicide Prevention, Suicide Prevention, School-Based Guid, Youth Suicide Prevention School-Based Guide, suicide, school-based, prevention, teen
Contact:
Abstract
Each brief offers a rationale for the importance of the specific topic together with a brief overview of the key points. The briefs also offer specific strategies that have proven to work in reducing the incidence of suicide,with references that schools may then explore in greater detail. A resource section with helpful links is also included. The Guide will help to provide information to schools to assist them in the development of a framework to work in partnership with community resources and families. The issue briefs and resource/links section, their content and recommendations will continually evolve as new research is conducted, the best available evidence is evaluated, and prevention programs are utilized and tested.
The Guide:
•Identifies and defines the elements of a comprehensive, school-based suicide prevention program.
•Examines the scientific literature to determine which of theseelements have been proven to work in reducing the incidence ofsuicide.
•Contains checklists and self-assessment instruments that may becompleted by schools to evaluate the adequacy of their suicideprevention programs.
Citation
Lazear, K., Roggenbaum, S., & Blase, K. (2003). Youth suicide preventions chool-based guide—Overview. Tampa, FL: Department of Child and Family Studies, Division of State and Local Support, Louis de la Parte Florida Mental Health Institute, University of South Florida. (FMHI Series Publication #218-0)