Recommended Practices: Being an Evidence-Based Practitioner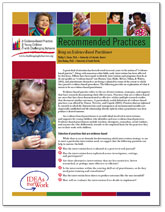 Publication Link pdf 164k
Keywords:
evidence-based, practice, early, early childhood, early intervention, intervention

Contact:
Abstract
What does it take to be an evidence-based practitioner? This fact sheet describes what evidence-based practitioners do, notes some of the challenges that affect the implementation of evidence-based practices, and offers advice for addressing those challenges.
Citation
Strain, P. S. & Dunlap, G. (2006) Recommended practices: Being an evidence-based practitioner. Tampa: University of South Florida, Louis de la Parte Florida Mental Health Institute, Center for Evidence-based Practice: Young Children with Challenging Behavior.