School-Based Mental Health: An Empirical Guide for Decision-Makers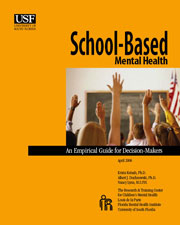 Publication Link 1.6 M, PDF
Keywords:
school-based, mental health services, positive behavioral support, PBS, EBP, systems of care, system of care, evidence-based

Contact:
Abstract
The "Yellow Book" provides a discussion of barriers to school-based services with the intention of improving service effectiveness and capacity. Reviews the history of mental health services supplied in schools, implementation of serviced, and provides an overview of the evidence base for school-based interventions. Includes recommendations for evidence-based mental health services in schools.
Citation
Kutash, K., Duchnowski, A. J., & Lynn, N. (2006). School-based mental health: An empirical guide for decision-makers. Tampa: University of South Florida, Louis de la Parte Florida Mental Health Institute, Dept. of Child and Family Studies, Research and Training Center for Children's Mental Health.