CFS Visits Panama to Share Expertise in Autism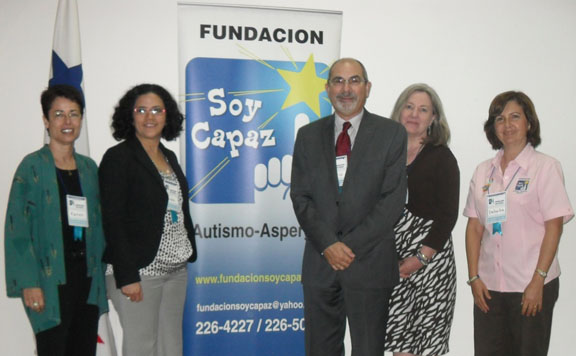 L to R: Drs. Karen Berkman, Linda Callejas, Mario Hernandez, and Lise Fox with Dabaida Nilipour Conte, president of the Fundacion Soy Capaz
Drs. Karen Berkman, Linda Callejas, Lise Fox, and Mario Hernandez from the Department of Child & Family Studies recently returned from Panama where they hosted a conference aimed at improving the diagnosis and care of individuals with autism in Panama.
CFS Department Chair Dr. Mario Hernandez initiated the Conference for the Successful Future for Children and Adults with Autism and worked with members of the Fundacion Soy Capaz (I Am Able Foundation) and the USF Health International Foundation in Panama to promote the event. The nearly 150 participants included youth and adults with autism spectrum disorders (ASD), as well as parents, therapists, nurses, students and teachers - some who rode a bus from a remote area of Panama for eight hours just to attend this event.
"We were welcomed so warmly by the families and professionals that we met," said Dr. Lise Fox, Professor and Director of the Florida Center for Inclusive Communities. "They were all very eager to learn more about the services and supports provided to individuals with disabilities and their families in the U.S. and to advocate for change within their system."
"It was a unique event that gathered international experts and local authorities interested in improving the quality of life for persons with autism. As a clinician, I can say that bringing evidence-based interventions is highly beneficial for our communities that lack standards of care in health institutions," said Dr. Arturo Rebollón, Projects Coordinator at the USF Health International Foundation. The Foundation, located in the City of Knowledge in Panama, is an international complex of organizations for education, research and innovation that aims to increase collaboration between USF faculty and students and Panama and other health professionals and organizations throughout Latin America.
Currently, Fundacion Soy Capaz has over 400 parents that have participated in activities, held five annual simposiums, five walks for autism day and has the only center for adults with autism in continuing education, recreation activities and some holding a job.
For 5 consecutive years, Fundacion Soy Capaz has issued a monthly newletter with information about autism and news about Panama's children and adults with autism. The first walk to conmemorate autism day was held in April 2008 with about 100 people and the last walk had over a thousand people with several offices of the government sending a representation and banners, including the office of the first lady.
During the conference, Dabaida Nilipour Conte, president of the Fundacion Soy Capaz provided an overview of Soy Capaz, which was formed in 2001 and is the only family-run organization in Panama which supports children, teenagers and adults with autism.
"Fundacion Soy Capaz was created after our son Dariush finished high school and as parents we realized that was the end of the road for him, since higher education and employment were far reached for an adult with autism," said Conte. "We realized at that point how alone a parent may feel without a support group, a continuing education for their youngster with autism and how little information existed about autism."
CFS speakers shared information on their various areas of expertise. Dr. Lise Fox discussed effective strategies within inclusive school programs. She described the use of evidence-based practices for supporting students with autism to be engaged in learning, understand and respond to directions, teaching social skills, and how to effectively address challenging behavior.
Dr. Karen Berkman described the current model of service delivery in the state of Florida through the Centers for Autism and Related Disabilities to educate, assist and support individuals with autism throughout their lifespan. A new program designed to assist young adults to define career goals and the steps to reaching those goals was described as well as the recent expansion into offering employment services.
An overview of organizations and advocacy movements in the U.S. that are run for and by parents was given by Dr. Linda Callejas. She profiled the Federation of Families for Children's Mental Health, which has peer support programs where parents with experience serve as peer navigators and advocate for others. She also discussed ways that parents can get more involved in developing positive relationships with teachers and service providers.
Dr. Gabielle Britton from the Scientific Research Institute of High-Tech Services in Panama provided an overview of current and future activities in Panama in regards to autism research and services. She shared that within the next few years more than 100 scientists are returning to Panama with PhD training, and together with greater funding and job opportunities, Panama will be in a position to develop research programs that address public health concerns. Importantly, the first group of MPH students will be returning this year from the USF-SENACYT program, which should help address the gap in epidemiological data that exists in Panama. Additional individuals from Panama shared their experiences, including an adult with autism who discussed his own experiences trying to find employment.
"In my town we don't have opportunities like this," said Abigail Quiros, a mother who lives in a remote town 3 hours from Panama. "There are few resources and I don't know other adults with autism. I was delighted to hear an adult with autism speaking about his experience."
Prior to the conference, CFS faculty visited two schools and the foundation offices and met with teachers, school administrators, parents and caregivers.
"At the schools, we were able to tour facilities and hear about how students are incorporated into general classrooms and for those that are not, what they are taught," said Dr. Callejas. "Parents discussed some of the challenges of finding schools and services for their children. Knowledge and awareness of ASD in Panama is just now gaining some traction and resources are limited. However, the country, and families in particular, is making some strides in addressing the needs of children, youth, and especially adults transitioning from school. For many of the family members, transition services and/or resources is the most immediate concern."
"I hope to find ways to stay connected with our colleagues in Panama and work on joint initiatives," said Dr. Hernandez. "I am looking for opportunities for graduate student exchanges and for opportunities to provide in-service training to teachers, parents and therapists. Also, we are aiming to find a sponsor to support an epidemiological study of ASD in Panama."
"It was a great opportunity to visit Panama to learn about the needs of people with autism and their families. I hope we have left them motivated and hopeful to realize the changes they envision for their country's education and service systems," said Dr. Karen Berkman.