CFS's Elizabeth Perkins Interviews Temple Grandin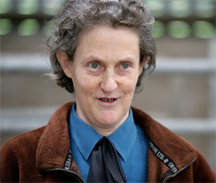 Dr. Temple Grandin is the most accomplished and well-known adult with autism in the world. On Sunday, August 29, the HBO Temple Grandin movie won five Emmy awards, including outstanding made for TV movie.
CFS's Dr. Elizabeth Perkins recently had the opportunity to interview Dr. Grandin as part of her role as President of the Gerontology Division of the American Association on Intellectual and Developmental Disabilities (AAIDD). The interview was published in Golden Years, the newsletter of the AAIDD Gerontology Division. Click here to read the interview.
Dr. Perkins is a Research Assistant Professor and Health Coordinator at the Florida Center for Inclusive Communities, USF's University Center for Excellence in Developmental Disabilities. She has a PhD in Aging Studies and a BA in Psychology, both from USF. Dr. Perkins is also an RNMH, a registered nurse from Great Britain, who is trained specifically in the field of intellectual and developmental disabilities (IDD). Her areas of interest include medical aspects of aging with intellectual/developmental disabilities(I/DD), and the experience of older family caregivers of adults with I/DD.
Photograph by Angus Bremner: www.angusbremner.com.