ABA Welcomes Third Cohort of ABA Doctoral Students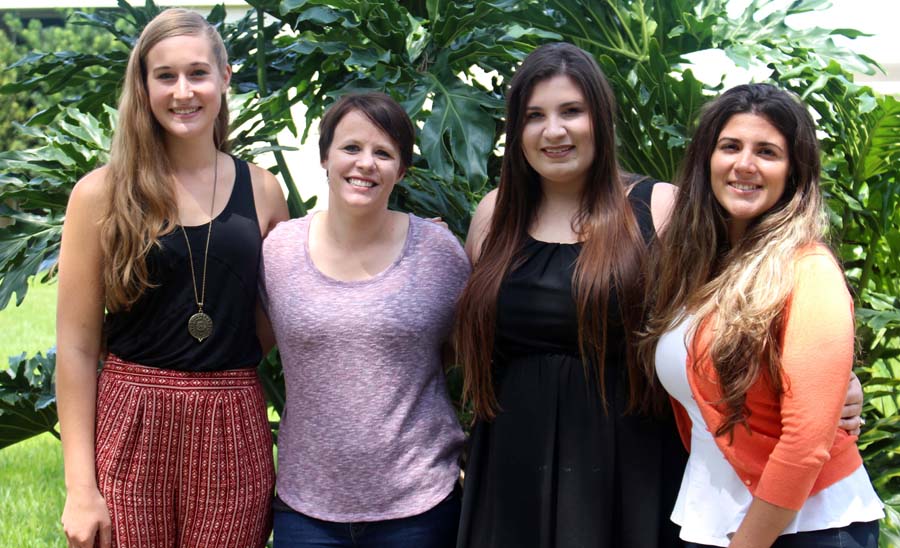 The ABA doctoral program welcomes its third cohort of students during the Fall 2015 semester. Each year brings increasing numbers of highly qualified applicants. This year's cohort includes a prestigious McKnight Doctoral Fellow and a University Graduate Fellowship. (Photo from left to right: Cynthia Livingston, Marissa Novotny, Jessica Moore and Claudia Campos)
2015 ABA Doctoral Students
Claudia Campos is a Board Certified Behavior Analyst (BCBA) who graduated from Florida International University with a Masters in Psychology (Applied Behavior Analysis concentration). Her research focuses on the application of behavioral principles to assess and treat severe behavior disorders in children and young adults with autism and other intellectual and developmental disabilities. Her interests include early intervention, variations of functional analyses, schedule-thinning methods, medical desensitization, and the use of token economies.



As an incoming student this fall, Claudia was awarded the Florida Education Fund's McKnight Doctoral Fellowship for her outstanding academic achievements. The prestigious fellowship program funds 50 doctoral students in Florida every year and is designed to increase the pool of African American and Hispanic citizens in the state qualified with Ph.D. degrees to teach at the college and university levels.
Cynthia Livingston attended the University of Kansas for her Bachelors in Applied Behavioral Science, and minor in Psychology. After which, she went to the University of the Pacific for her Masters in Psychology, with a concentration in Applied Behavior Analysis. Her research interests include translational research, behavioral economics, and physical activity research.
Jessica Moore attended USF for her bachelor's degree - graduating with a B.A. in Psychology with a minor in Applied Behavior Analysis. She also attended USF for her master's degree, graduating with a M.A. in Applied Behavior Analysis in 2015. Her thesis was titled "Using Video Feedback to Increase Job Interview Skills for Individuals with Developmental Disabilities." Her current research interests include assessment of severe problem behaviors and problem behavior relapse.
Marissa Novotny completed her undergraduate and graduate work at St. Cloud State University in Minnesota. During that time, her main area of research was looking at the probability of producing false positives with single-case designs along with a wide variety of research with discontinuous recording methods. Currently her research interests continue to be related to methodology but also with Behavioral Skills Training and looking at teaching safety skills. Melissa is the recipient of a University Graduate Fellowship based on her outstanding credentials as an applicant for the doctoral program.