Dr. Ray Miltenberger Receives Prestigious Outstanding Scientific Contributions Award from FABA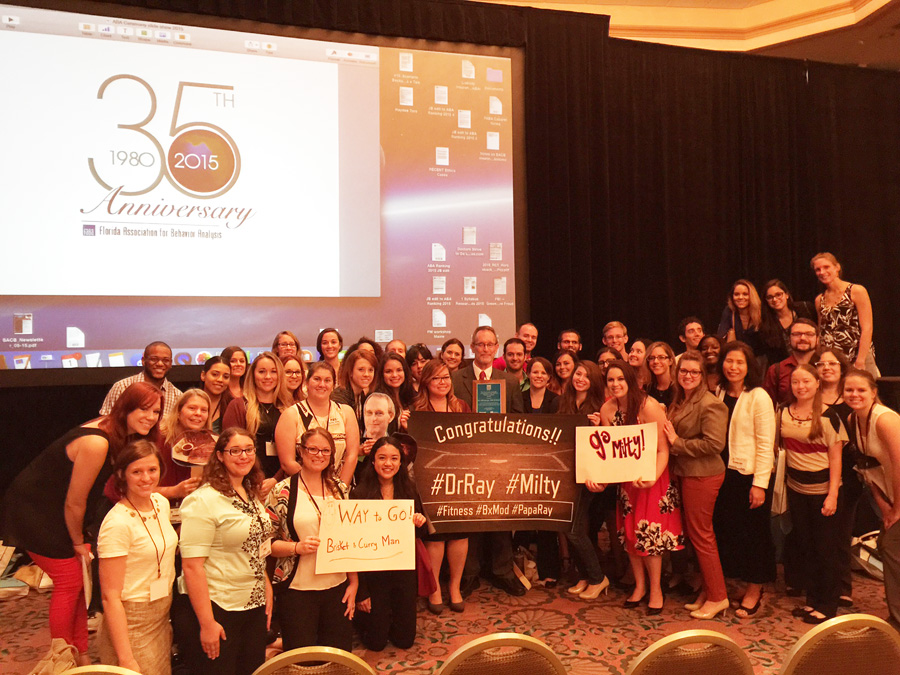 Congratulations to Professor and ABA Program Director Dr. Ray Miltenberger who received the prestigious Outstanding Scientific Contributions to the Field of Behavior Analysis Award during the Florida Association for Behavior Analysis Conference and Awards Ceremony on Thursday, October 1st. The award, which requires approval of the FABA Executive Committee, is to acknowledge and honor behavior analysts or other individuals who, through scientific research and publication, have made significant contributions to the field of Behavior Analysis.

During the awards presentation for Dr. Miltenberger, more than 700 FABA members in the audience stood and clapped for a long duration. "This included a very vocal, appreciative, sign-waving group of USF students and faculty," said Dr. Kevin Murdoch, FABA Executive Director, who presented the award. Dr. Miltenberger spoke briefly afterward and expressed his special appreciation for his students, faculty members and department chair, and family.

Currently, Dr. Miltenberger's research interests fall mostly into two areas - health, fitness, and sports, and safety skills training. He has published over 200 journal articles and chapters, has co-edited a text on analysis and treatment of tics and repetitive behavior disorders, and has written a popular behavior modification textbook, now in its sixth edition. He also has been the Literature Review Editor for Education and Treatment of Children, an associate editor for Education and Treatment of Children and Behavior Analysis in Practice, and a guest associate editor for Journal of Applied Behavior Analysis. Dr. Miltenberger has received a number of awards for his teaching, research, and mentoring.

Dr. Miltenberger is a former President of the Association for Behavior Analysis International and has served on the Board of Directors of the Society for Advancement of Behavior Analysis. He serves or has served on the editorial boards of Journal of Applied Behavior Analysis, Journal of Behavioral Education, Behavioral Interventions, Journal of Positive Behavioral Interventions, and Education and Treatment of Children. He has also served on the Executive Committee of the Florida Association for Behavior Analysis.
Photo above: Dr. Ray Miltenberger, in center behind sign and award, is photographed with students and faculty from the USF ABA program.