5th Annual Cycling Out Autism Raises over $34,000 for Community Organizations
USF's Center for Autism & Related Disabiities(CARD-USF) and Applied Behavior Analysis Program (ABA)were among three local organizations supported by the 5th Annual Cycling Out Autism fundraising event held on Saturday, April 5th 2014. This year, a record number of riders – 134 cyclists – participated at Jay B. Starkey Wilderness Park in New Port Richey.
Hosted by the Tampa Interbay Rotary, the event is held to increase awareness about autism spectrum disorders and to raise funds for organizations in the Tampa Bay community that are directly impacting families touched by autism and the professionals who support them.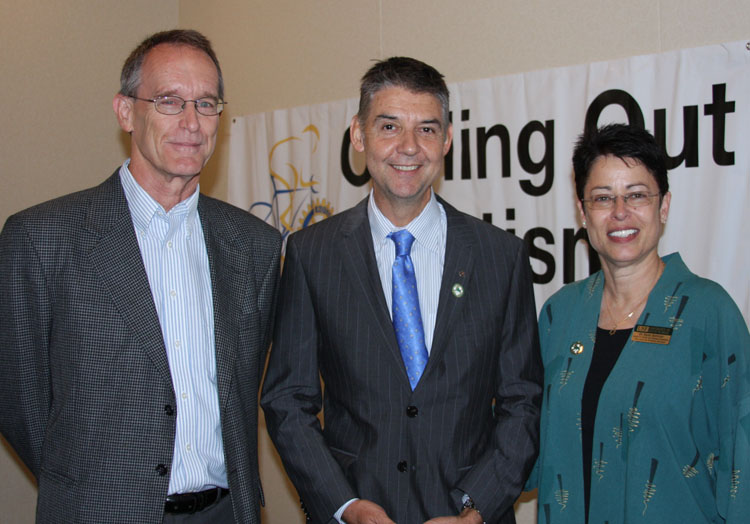 On Thursday, July 10, 2014, Tampa Interbay Rotary President Allen Keetch presented checks to the 3 organizations so they can continue and expand their work in classrooms, in ABA therapy practice and in the community with families and professionals. Cyclists, sponsors and the organizations celebrated during a luncheon hosted by the Rotary members. (Photo Left: Raymond Miltenberger, PhD, Professor and Director of the ABA Program; Allen Keetch, Tampa Interbay Rotary President; and, Karen Berkman, PhD, Executive Director of CARD-USF.)
"We are very appreciative of the Tampa Interbay Rotary Club and all of their support over the years," said Dr. Karen Berkman. "Their annual Cycling Out Autism fundraiser has allowed both CARD-USF and the ABA program to assist more families, professionals, and businesses within our 14 county region."
Save the date for the 2015 event scheduled for Saturday, March 28th at a new location: Concourse Rotary Pavilion adjacent to the Suncoast Trail with a newly added 3 mile ride for young and beginning riders. Sponsorship packages and team opportunities are available by contacting: Jim Grant or visiting www.cyclingoutautism.com.