CFS Faculty are Large Presence at the APBS International Conference
The Association for Positive Behavior Support (APBS) is an international organization with almost 1000 members dedicated to the advancement of positive behavior support (PBS) with a mission to help individuals improve their quality of life and reduce problem behaviors by advancing the use of PBS. APBS promotes research-based strategies that combine applied behavior analysis and biomedical science with person-centered values and systems change. PBS is now being implemented in a variety of places including schools, early childhood, mental health, and child welfare settings, and in organizations that provide services to adults with developmental disabilities. Individuals of all ages can benefit from PBS from the very young to old age.
APBS is comprised of a very diverse group of individuals (i.e., professionals and practitioners, family members and guardians, self advocates and consumers, researchers and university students, policy makers and advocacy rights professionals, administrators, managers and trainers). For more information about APBS, visit their website.
Annual Conference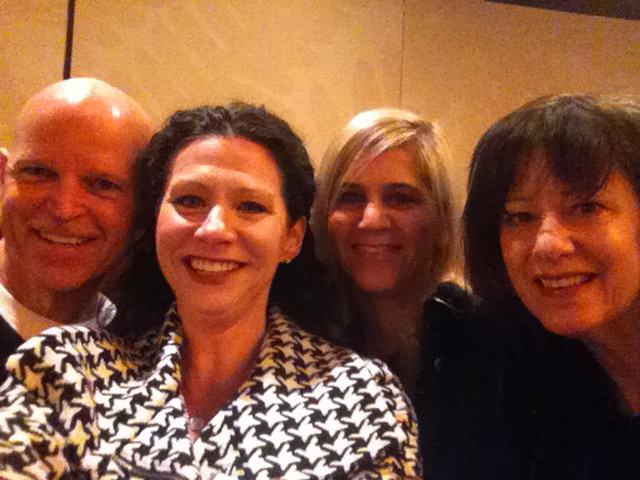 APBS hosted the 11th International Conference on Positive Behavior Support at the Hyatt Regency Riverwalk in Chicago March 5-8, 2014. CFS faculty member Don Kincaid, President of APBS (2012-2014) opened the conference and introduced the keynote presenters, Lucille Eber, PBIS Illinois and Susan Barrett, PBIS Maryland who spoke on: Advancing Education Effectiveness: Connecting School Mental Health and School-wide Positive Behavior Support. Of the 1200+ attendees, 15% were international participants. Over 250 presentations were submitted, and 150 break-out sessions with 9 skill-building workshops, networking opportunities, poster session and exhibits were offered. (Photo l to r: Tim Knoster, Executive Director, Heather Peshak George, President, Susan Barrett and Lucille Eber Keynote Speakers)

CFS faculty had an enormous presence at the international conference!
4 (out of 32 total) invited presentations
3 half-day workshops
1 featured presentation
12 peer-reviewed paper presentations
1 student peer-reviewed oral presentation
2 peer-reviewed student posters
Videos of presentations can be viewed at the APBS Conference website.
CFS faculty Heather George served as Conference Chair (2012-2014) and was elected the incoming President of APBS (2014-2015).