Dr. Lise Fox Honored with Mary McEvoy Service to the Field Award
Dr. Lise Fox – a leading contributor to the field of early education intervention for several decades – has received the Mary McEvoy Service to the Field Award. The award was established by the Division for Early Childhood (DEC), the largest international professional organization dedicated to improving educational outcomes for individuals with exceptionalities, students with disabilities, and/or the gifted.
Given annually to a parent, community member, or profe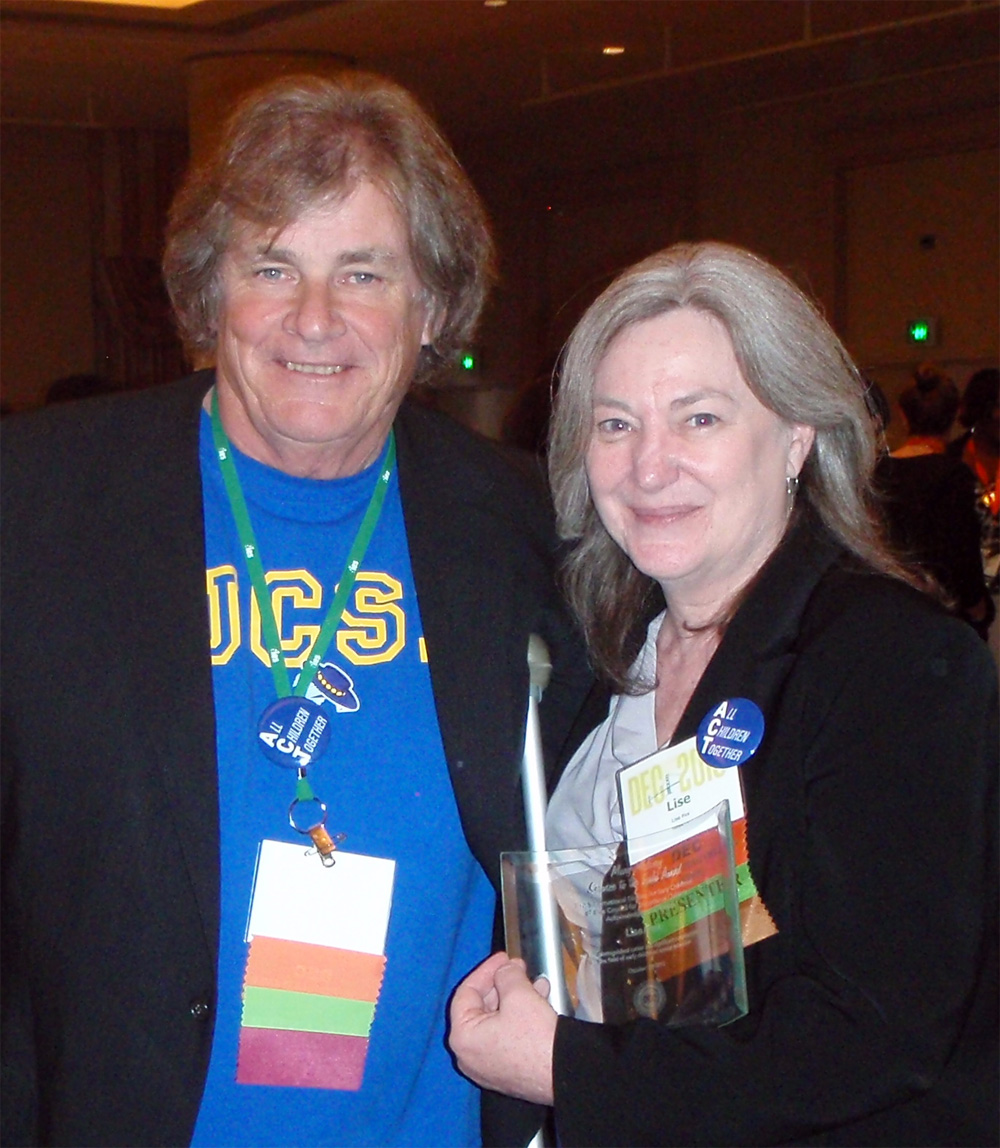 ssional who has made notable and significant national or international contributions to the field of early childhood special education, the award was named in honor of Mary McEvoy, former director of the Center for Early Education and Development at the University of Minnesota and a nationally respected researcher and advocate in early childhood studies. She was one of seven passengers who died with Minnesota Senator Paul Wellstone in a 2002 plane crash.
"Dr. Lise Fox has been a leading contributor to the field of early childhood intervention for several decades, and her contributions have been diverse, impactful, sustained, and meaningful," said Dr. Glen Dunlap from the University of Nevada, who organized the nomination and presented the award. "Lise's efforts have been instrumental in building and improving our field's ability to deliver effective services for young children with disabilities and their families. She has contributed as an advocate, a member of DEC, a teacher, a researcher, an author, a leader, and a large-scale provider of state-of-the-art training and technical assistance."
"Dr. Fox has made extraordinary contributions in being a citizen scholar in the sense of generating research that truly makes a difference for children and families and then working tirelessly to put that research into practice and professional development," said Dr. Ann P. Turnbull, Co-director, Beach Center on Disability. Dr. Turnbull was among the group of colleagues who recommended Dr. Fox for the award.
Colleagues Michaelene Ostrosky, Rosa Milagros Santos and Tweety Yates from the University of Illinois at Urbana-Champaign Department of Special Education described Dr. Fox in this way:
In her direct work with children and families, she teaches. She helps families look at their children's challenging behavior in a different way - as communicative, as serving a purpose and having a function.
As a scholar, she mentors those who work on her research team, and teaches those of us who read her published work and learn from her and her colleagues.
As a university instructor, in-service provider, and sought-after presenter, Dr. Fox teaches other professionals as she encourages them to reflect on their practices, reframe how they "look at" young children's challenging behavior, and work collaboratively to change the trajectory of children who some consider "bad kids, helpless, and hopeless." She helps others realize that we all can do better.
Dr. Fox is widely known for her substantial impact on the field through her leadership and collaborative work on the Pyramid Model. In collaboration with colleagues, she developed the multi-tiered framework which promotes healthy social-emotional development and intervenes with challenging behaviors. The Pyramid Model has been nationally implemented through several federally funded projects.
"She is pushing the field forward in terms of identifying effective practices and examining which strategies are most likely to lead to high quality implementation of practices," said Dr. Patricia Snyder, Director of the University of Florida Center for Excellence in Early Childhood Studies. "I - and I know many others - have benefitted immensely from Lise's willingness to teach, to listen, and to debate complex issues. She is a deeply caring person who strives for the betterment of services, supports, and systems for young children with or at risk for disabilities, their families, and the personnel who work with them."
"While I am so pleased for this recognition, the work I have achieved only happened because of the collective talents and synergy of the teams that I have worked with through the Center on Social and Emotional Foundations for Early Learning and the Technical Assistance Center on Social Emotional Intervention for Young Children," said Dr. Lise Fox.
(Photo above: Dr. Glen Dunlap and Dr. Lise Fox share a moment for pictures after award presentation.)
Click the links to view the award presentation by Dr. Dunlap and acceptance speech by Dr. Fox.