Recipient of Local Youth Philanthropy Award Donates 100% of Award to CARD-USF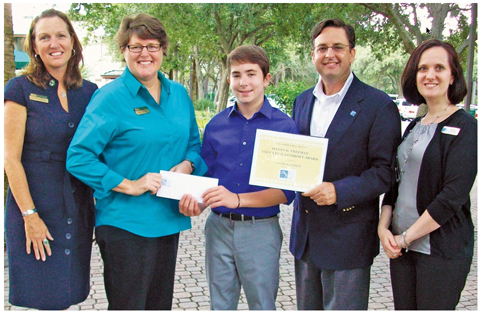 Congratulations to Jacob Weinman, age 13, who was selected for the 2013 Danny H. Freeman Youth Philanthropy Award for his work to help raise awareness for individuals living with autism.
The Danny H. Freeman Youth Philanthropy Fund awards a teenager (age 12-17), regardless of religious affiliation, who has made an impact toward one or more individuals with special needs. The endowment fund is a partnership between Danny Freeman and Tampa Jewish Family Services. The winner is awarded $200 and asked to contribute at least one-half of their award to a local charity of their choice. Jacob has generously donated 100% of his award to CARD.
In the photo, from left to right: Center for Autism and Related Disabilities employees Christine Rover and Mindy Stevens, Jacob Weinman,TJFS CEO Michael Barnett and Clinical Director Lydia Abrams.

To read more about Jacob and the award, visit: