Mentees Show Appreciation with Gift of Plane Ticket to Korea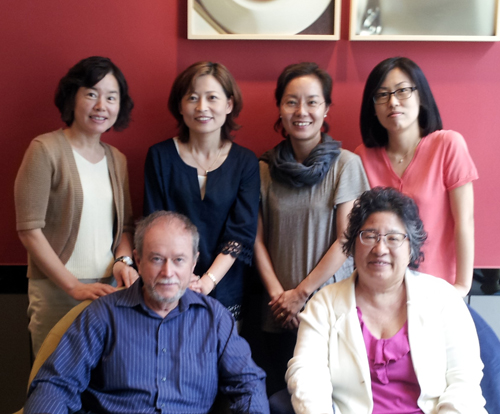 Graduate students and postdoctoral fellows who are mentored by senior faculty may sometimes show their appreciation with thank you notes or small gifts. It was a little more than that for Dr. David Chiriboga, who in the last six years alone, has served as a mentor in the field of aging for more than ten graduate students and four postdoctoral fellows, many of whom are Koreans (see list below).

"When my mentees found out I was not planning on attending the 20th Annual IAGG (International Association of Gerontology and Geriatrics) World Congress June 23-27 in Korea, they organized the David's Korean Mentee Association and raised money to pay for my flight from Tampa to Korea. It was quite a surprise and quite an honor. In fact, I'm not sure that I have ever heard of mentees doing such a thing for a mentor!"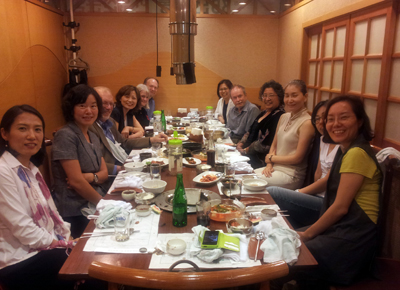 While at the World Congress, Dr. Chiriboga was able to attend all three of the papers presented by his colleagues – and on which he was a co-author. In addition to his long history of mentoring outstanding researchers in the field of aging, Dr. Chiriboga has continued his ongoing research efforts in several areas including a statewide study of mental and physical health disparities in Florida, disparities in service utilization among Medicaid beneficiaries with Alzheimer's disease, and a state-contracted study of implementation issues surrounding initiation of reimbursement for telemental health by the Florida Medicaid Agency.
(Photos: Top: Four members of the David's Korean Mentee Association stand behind Dr. Chiriboga and his wife Dr. Barbara Wai Kinn Yee. From left to right are: Drs. Nan Park, Yuri Jang, Jung Eun Ko, and Kyung Hua Kwag. Left: Dr. Chiriboga enjoys dinner with mentees and several other faculty that have been mentored by him. Also at the dinner was Dr. William Kearns from the CBCS Dept. of Rehab and Mental Health Counseling.)

About IAGG: The IAGG was established in Belgium in July 1950 to improve the quality of life of the world's older people by sharing research results on health, welfare, and rights, functioning as a worldwide network to achieve the goal. Currently, there are organizations in 64 countries representing a worldwide membership of over 45,100. A total of 4,289 persons from 86 countries participated in the 2013 World Congress, and 3,479 papers on a wide variety of topic fields were presented in 560 sessions.
Dr. Chiriboga's Korean mentees include:
Han Rhew, doctoral student, USF
Jung Eun Ko, postdoctoral researcher at USF
Nan Sook Park, faculty at USF
Yuri Jang, now faculty at the University of Texas at Austin
Giyeon Kim, now faculty at the University of Alabama
Soyeon Cho, now faculty at City University of New York
Jung Kwak, now faculty at the University of Wisconsin, Milwaukee, and
Kyung Hwa Kwag, Instructor, Duksung Women's University, South Korea