How Does Florida Rank in the National KIDS COUNT Data Book 2013?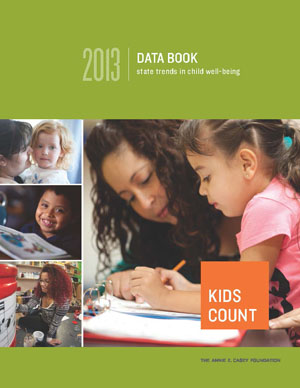 The Annie E. Casey Foundation has released its 24th annual KIDS COUNT® Data Book. The Data Book presents the latest trends in four categories 1) Economic Well-Being, 2) Education, 3) Health and Family and 4) Community.
Results for our state show that economic hardships continue to put Florida's children at risk as Florida slips to 45th among the 50 States in Economic Well-Being.

Visit Florida KIDS COUNT to view these resources, as well as other data and publications featuring Florida and it's counties. Florida KIDS COUNT (FKC) is part of a Nationwide KIDS COUNT Network and project of the Annie E. Casey Foundation. FKC disseminates national, statewide and county-level data on key indicators for Florida's children.

KIDS COUNT® is a registered trademark of the Casey Foundation.
View news related to Florida and the 3013 KIDS COUNT Data Book:
Our Opinion: Saving children
Tallahassee Democrat
Published: June 25, 2013
Florida children's instability worsens, report says
Gainesville.com
By: Kristine Crane
Published: June 25, 2013