PhD Student Vickie Lynn Receives USF Fellowship Award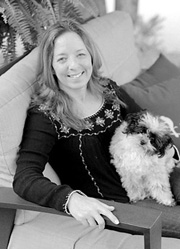 Congratulations to 2nd year PhD student Vickie Lynn on receiving the USF Graduate Student Success Fellowship award offered through the USF Graduate School.

Vickie is pursuing her PhD with a specialty concentration in behavioral health as part of a program jointly offered by the USF College of Behavioral & Community Sciences (CBCS) and the USF College of Public Health (COPH). This is an advanced professional degree program for students intending to pursue leadership and executive management opportunities in behavioral health services. The curriculum at the doctoral level is individualized based upon the student's career goals and previous work experiences.

Sharing the same research interests, Vickie is currently working as a Graduate Assistant with Dr. Stephanie Marhefka from the COPH Department of Community & Family Health who specializes in HIV/AIDS social behavioral research.

"I am so thankful this award will allow me to focus more on my degree and interested research," said Vickie. "Advances in HIV research have increased the life expectancy for individuals living with HIV and we now face new challenges to provide continued physical and mental health care for this population. My research objective includes exploring the use of evidence-based interventions in community settings and how these interventions can be developed to be delivered via new technology: cell phones, internet, computer-based, and video-conferencing to improve the lives of people living with HIV/AIDS."

"Vickie is an incredibly hard worker and excellent student. I am so pleased that she received this well deserved award," said Dr. Bruce L. Levin from the CBCS Department of Child & Family Studies, who, along with Dr. Marhefka, serves as her advisor.

The Graduate Student Success Fellowship stipend is $12,000 per year for up to 3 years from the date of initial enrollment. In addition, the University will pay full-time tuition (up to 12 credits in fall and spring) for graduate-level credit hours taken at USF that count toward your graduate degree.