Student Profile: Inaugural Class of ABA Minor Program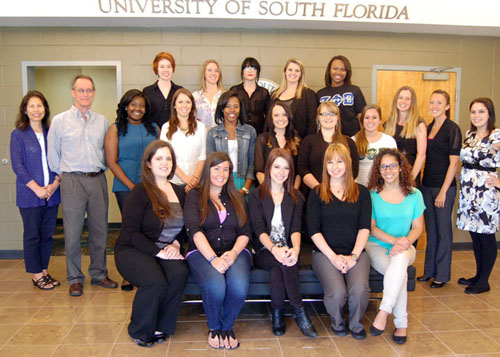 The projected job growth rate for the field of Applied Behavior Analysis (ABA) is growing rapidly – 27% between 2010 and 2020. USF students must be aware, as they have quickly turned to USF's new minor in ABA, just established this spring. Within one year, the first 15 students will complete their minor requirements in ABA.
The ABA program prepares graduates to work in a variety of fields including education, developmental disabilities, autism, child protective services, mental health, residential supports, rehabilitation, and more.
"We are thrilled to produce passionate, skilled scientist-practitioners at the undergraduate level," said Victoria Fogel, coordinator and instructor of the program. "Most of these students are already working in the field, benefiting our community, and acquiring experience towards sitting for the Board Certified Assistant Behavior Analyst (BCaBA) exam."
Since 2009, ABA course offerings increased from one course per semester to five courses per semester. Course enrollment went from an average of 9 students per course to 25 students per course and these numbers are rising every semester.
Several students plan to apply for the graduate program in ABA in the near future. (Meet the inaugural class).
"We are very proud of these students and congratulate them on this accomplishment and their first steps towards their new careers," added Fogel.
The ABA minor is overseen by Dr. Raymond Miltenberger, Ph.D., BCBA. Victoria Fogel, M.A., BCBA is the coordinator and one of the instructors. Stephanie Wack, M.A., BCBA, and Dr. Kwang-Sun Blair, Ph.D., BCBA are the other two instructors. In addition to the minor, the ABA program at USF offers doctoral and master's degrees and CE credit courses.
Photo Above:
Back row (from left to right): Heather Palmisano, April Dyal, Jennifer Dearden, Tamra Puchalski, and Bevannie Smith
Middle row: Dr. Kwang-Sun Blair (Associate Professor), Dr. Raymond Miltenberger (Professor and Director), Paula Petit-Frere, Jessica Lizbeth Biedronski, Monica Jackson, Tabetha Nicole Argiro, Jackalynne J. DeLong, Shana Harrison, Victoria Fogel (Coordinator/Instructor), Stephanie Wack (Instructor), and Mallory Quinn (Teaching and Research Assistant)
Front row: Kelsey Myers, Rebecca Webster, Sarah Housley, Lauren Altman, and Amarilys Morales