April 19, 2013: 8th Annual Fiesta By The Bay for Autism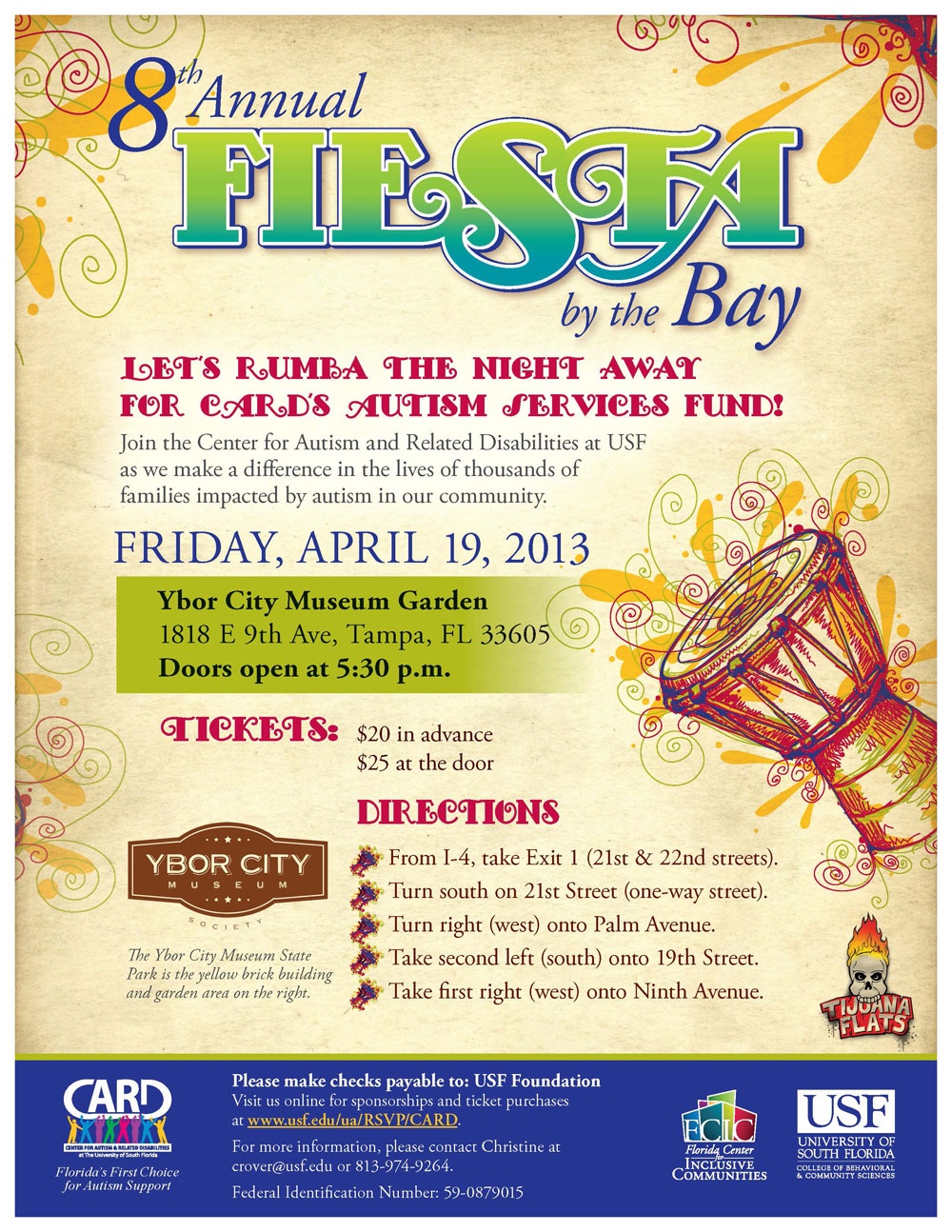 CARD-USF provides communities, organizations, businesses and families with the knowledge and skills to support children and adults with autism and related disabilities. CARD also works with early intervention, schools, employers, and colleges and universities.
Please Join us on April 19th for our family friendly 8thAnnual Fiesta by the Bay fundraiser benefiting the Center for Autism and Related Disabilities at USF. Included in the price of the ticket at our new, larger location at the Ybor Museum Garden is:
A taco bar donated by Tijuana Flats
Music and dancing with DJ Jose
A Cake Walk Conga for delicious desserts
Silent auction, which promises to be the best ever!
Like us on our Fiesta by the Bay Facebook page to get the Salsa Scoop on Fiesta Fridays, silent auction items, special guests and activities for the kids.
The Center for Autism and Related Disabilities at USF (CARD-USF) is supported through the USF Foundation's Autism Services Fund, a 501[c] [3] tax-exempt charity organization. CARD-USF, located within the College of Behavioral and Community Sciences at the University of South Florida, serves over 6,500 families and professionals across 14 counties in southwest Florida. It is one of 7 statewide CARD sites offering services and trainings at no charge. Additional support from the community allows CARD to expand projects and provide special events to families and professionals right here in Tampa Bay.
For more information on autism, as well as our Center, please visit our web site at http://card-usf.fmhi.usf.edu/ or contact Christine Rover by phone at 813-974-9264 and by email crover@usf.edu.
http://cfs.cbcs.usf.edu/_docs/news/CARD Fiesta 2013 Flyer.pdf