Tampa Conference Shines the Light on Children, Youth, and Young Adults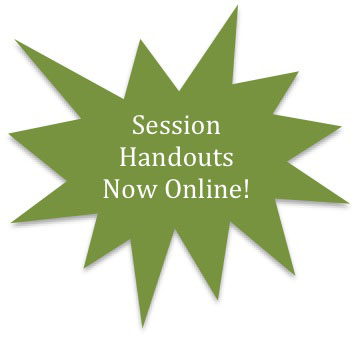 During March 3 - 6, the light was focused brightly on children, youth, and young adults at the 26th Annual Children's Mental Health Research & Policy Conference in Tampa. Intensive workshops, special plenary sessions, individual sessions and poster presentations focused on programs and policies related to the promotion, prevention and intervention for early childhood literacy, substance abuse, mental health, co-occurring disorders, and behavioral health challenges.
Since 1988, the conference has provided opportunities for dialogue about research and policy initiatives, challenges for the field, and solutions to those challenges. This past year has shown the need to intensify the dialogue, both for children in need and their families, and for a mental health system that is challenged by the nation's economic downturn. Many new advocates such as the Children's Mental Health Network are calling for more funding to expand behavioral health services for children, youth, and emerging adults.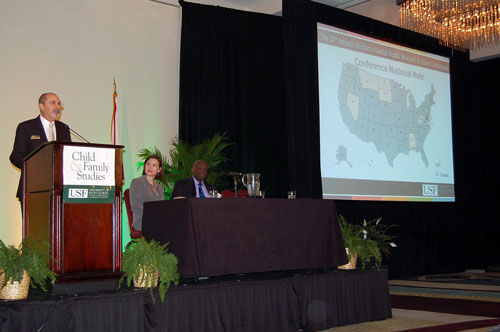 Dr. Hernandez shows map of conference participants representing 44 states, Puerto Rico and Canada.
"I have been involved since the very early days of this conference, and am thankful for the many partnerships and collaborations that have been generated over the years," said Dr. Mario Hernandez, 2013 conference organizer and Chair of the Department of Child & Family Studies. "As a department within the USF College of Behavioral & Community Sciences, our mission is to be among the most influential resources for behavioral and community sciences in the region and nation. We are excited about our role in hosting this annual conference and the role it has played nationally and internationally in the field of children's mental health research."
This years' conference began with an excellent selection of intensive workshops:
Strategies for Evaluating Complex Systems Change in Child Welfare
An Internet-Based Approach for the Delivery of Behavioral Health Training and Preventive Interventions
At home, in school, with better care at lower costs: How to implement innovative fiscal, administrative, and clinical approaches for youths with complex needs
Reducing Disparities Among and Developing Research About LGBT Youth in Schools and Other Youth-Serving Systems: Research, Strategies, and Tools
Plenary sessions featured national and international experts as well as federal policy leaders in substance abuse, mental health, co-occurring disorders, early childhood literacy, promoting early childhood mental health, implementation of the affordable care act, and serving youth and emerging adults with behavioral health challenges. Most topics centered around childhood development and treatment for youth and young adults.
Importance of Early Experiences
"Early experience is the 'smoking gun' for both education success and long-term health," said speaker Geoff Nagle, Ph.D., Associate Professor of Psychiatry at the Tulane University School of Medicine and the Director of the Institute of Infant and Early Childhood Mental Health. "The longer we wait to intervene with children the more expensive it becomes to fix the problems and the less return on the investment is recognized over time."
"We know that it's a smart decision to invest early, but what should we be investing in?" asked speaker Lise Fox, Ph.D., professor in the Department of Child and Family Studies and the Co-Director of the Florida Center for Inclusive Communities. Her answers included:
Early detection
Promotion, prevention and intervention
Not just the children, but the families and other caregivers
Use of proven interventions/strategies
All speakers reinforced the importance of positive early experiences.
"The part of the brain most affected by early stress is the prefrontal cortex, which is critical in self-regulatory activities of all kinds, both emotional and cognitive," said Dr. Nagle. "As a result, children who grow up in stressful environments generally find it harder to concentrate, harder to sit still, harder to rebound from disappointments, and harder to follow directions. And that has a direct effect on their performance in school. When you're overwhelmed by uncontrollable impulses and distracted by negative feelings, it's hard to learn the alphabet. And in a fact, when kindergarten teachers are surveyed about their students, they say that the biggest problem they face is not children who don't know their letters and numbers; it is kids who don't know how to manage their tempers or calm themselves down after a provocation."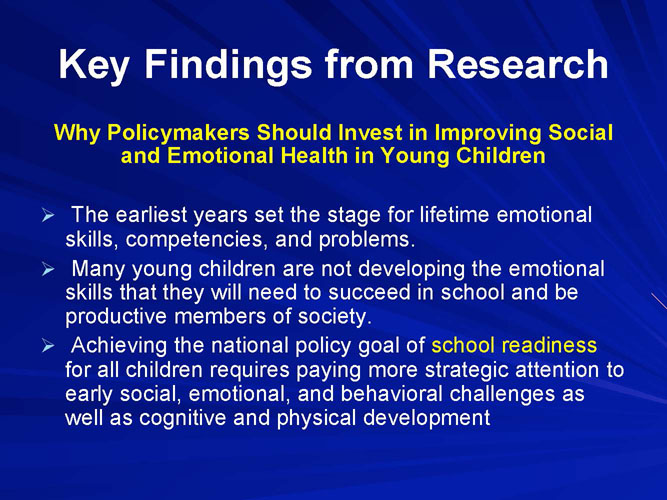 Slide from Albert A. Zachik, M.D. presentation on importance of early years.
Albert A. Zachik, M.D., director of Child and Adolescent Services at the Mental Hygiene Administration, Maryland Department of Health and Mental Hygiene, shared that the rate of expulsions from state funded pre-kindergarten programs was roughly three times the rate of expulsions from K-12 programs.
"Achieving the national policy goal of school readiness for all children requires paying more strategic attention to early social, emotional, and behavioral challenges as well as cognitive and physical development," said Dr. Zachik.
"U.S. students who don't learn to read by the end of third grade are four times more likely than proficient readers to drop out of school; for black and Latino students living in poverty, the rate is eight times greater," said Dr. Amber Gove, Director, Teaching and Learning, International Education at RTI International. "Yet, there is little national attention to the critical role literacy plays in promoting positive childhood development." Dr. Gove added that she has come to learn just how critical literacy is to both individual economic and social well being, as well as the trajectory of nations, saying, "There is not a single country in the world that has moved up the rungs of the development ladder without securing universal, quality education for its populace." Statistics shared by Dr. Gove:
States spend about three times as much money per prisoner as per public school pupil
1 in 3 Black and 1 in 6 Latino boys born in 2001 are at risk of imprisonment during their lifetime
Prison literacy levels are substantially lower than that of the general population
In 2003, 17% of inmates diagnosed with learning disability (vs. 6% in households)
Adolescents and Young Adults
Several speakers focused on adolescents and young adults and were passionate about the need for improved policies and supports.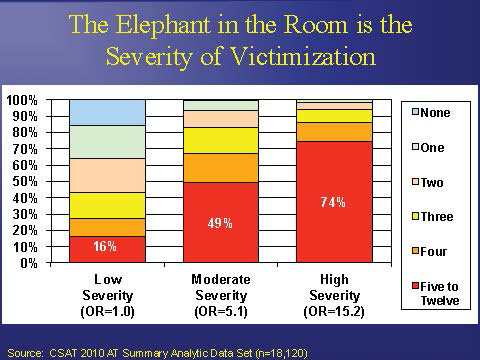 Slide from Michael Dennis, Ph.D. presentation
Michael Dennis, Ph.D., from Chestnut Health Systems, in Normal, IL discussed the major quality chasm in current practice for adolescents and young adults, and the effects of trauma at an early age.
"The elephant in the room is the severity of victimization," said Dr. Dennis. Key points in his presentation included:
Multiple co-occurring problems are the norm, vary in mix by age and are heavily related to victimization and trauma.

The best predictors of outcome are the use of evidenced based assessment and practice that have worked for others, have strong quality assurance, strong case supervision, and good triage of services to well defined problems."
Ashli J. Sheidow, PhD, Associate Professor at the Medical University of South Carolina discussed the importance of treating co-occurring substance use and mental health conditions in transition age youth, saying "Substance abuse disorders don't travel alone, and there have been no evidence based treatments to date for this population. We know a comprehensive and thoughtful approach is urgently needed."
David Mineta, Deputy Director of Demand Reduction, Office of National Drug Control Policy, spoke on the current White House policies in regards to reducing the nation's demand for drugs. He listed prevention and early intervention as one of their current efforts.
"The ages that many of you are working on in mental health policy and research don't match up with the demographics addressed in drug policy. The reasons for this, (as Dr. Dennis and Dr. Sheidow mentioned) is a lack of evidence-based interventions for these transitional populations. We have evidence-based interventions for school-aged youth – prevention programming for those in elementary and high school – and we have access to college students and to workplaces through drug testing programs and employee assistance programs. However, it's difficult to reach young people who aren't in college, who have dropped out of high school, who are in the juvenile or adult justice systems, who aren't employed or connected to other social systems. But it's our concern that such disenfranchised individuals are the very people most in need of intervention."
Mineta gave a call to participants, urging them to "consider focusing your research on these so-called "disconnected youth," developing interventions, and helping us reach young people in need with effective, evidence-based programs."
Federal Update
A federal update was provided by Larke Huang, Ph.D., Director of the Office of Behavioral Health Equity at SAMHSA and Suzanne Fields, MSW, LICSW, Senior Advisor to the Administrator on Health Care Financing at SAMHSA.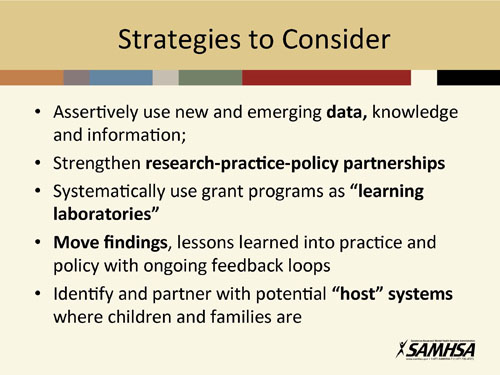 Slide from Larke Huang, Ph.D. presentation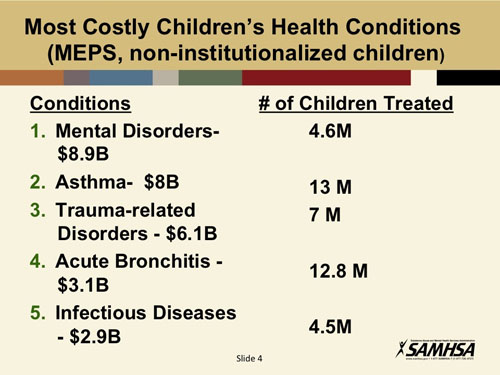 Slide from Suzanne Fields presentation
Dr. Huang discussed strategies to consider when advancing children's behavioral health and well being. Topics included gun violence, racial and ethnic health disparities, improving treatment for adolescents. She profiled a variety of initiatives including the "Now is the Time," the President's plan following Sandy Hook, the Attorney General's Defending Childhood Initiative and SAMHSA's public health approach to trauma.
Suzanne Fields focused on health reform and opportunities to sustain and promote mental health and substance use services and supports. She listed mental disorders and trauma-related disorders among the most costly children's health conditions and discussed how early intervention can reduce the impact of behavioral health problems.
Many of the conference presentations will be posted online.
The CFS department and its historical affiliation with the Louis de la Parte Florida Mental Health Institute, is committed to improving the well-being of individuals, children, and families within communities across the country through promoting respect, inclusion, development, achievement, mental health, and an optimum quality of life.