CARD Conference Celebrates 20 Years of Service to Florida Families

Florida's premier conference on Autism Spectrum Disorders for professionals and families was held January 11 - 13 in St. Petersburg and hosted by the Center for Autism and Related Disabilities at USF (CARD-USF), one of seven regional, nonresidential resource centers funded by the state of Florida. The three-day conference celebrated its 20th year of service supporting Florida's children, adults, families, and community members whose lives are touched by autism.
As part of the special anniversary celebration, the conference featured experts and regional professionals offering informative and stimulating presentations on a variety of topics on research, innovation, and effective educational programs for people diagnosed with Autism Spectrum Disorder. A special track for adults on the spectrum was also offered.
The conference began with welcoming remarks by the Scott Badesch, president of the Autism Society of America. A father of a young adult with autism, Badesch led his local Autism Society chapter before joining the national office in 2010.
Speakers from USF included Drs. Lise Fox, Elizabeth Perkins, Ray Miltenberger and Brian Gaunt as well as Human Services Practitioner Shelton Gilyard.
A special video produced by CARD-USF was shown which profiled individuals that different CARD centers have worked with from childhood into adulthood and showcased their life successes.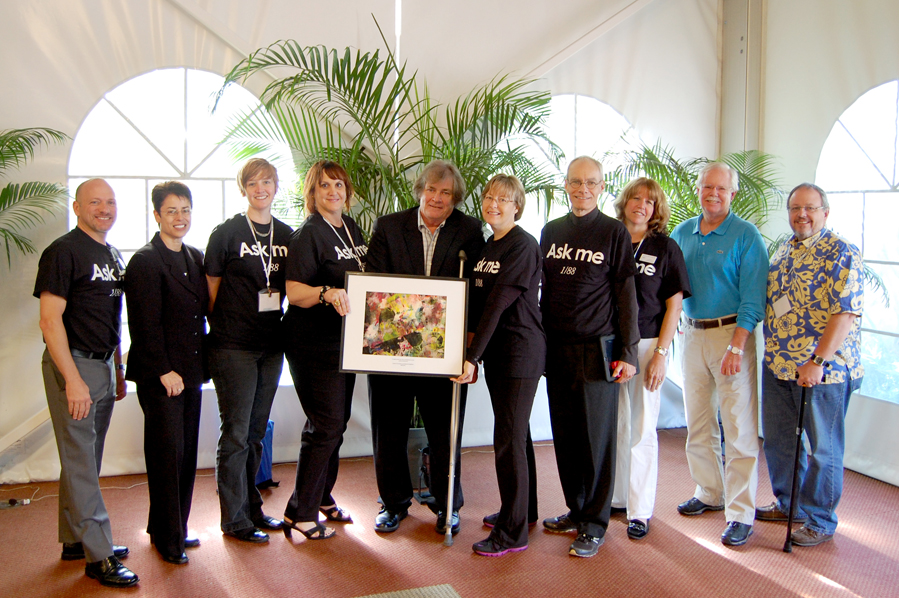 USF Research Professor Dr. Glen Dunlap was recognized for his vision and many contributions to CARD and the autism field. He was honored with a beautiful piece of art created by a VSA artist. Dr. Dunlap has been involved with people affected by autism for 40 years as a teacher, program director, university instructor, researcher and friend. He was involved in the establishment of Florida's CARD system in several ways: (1) as a consultant to the Autism Task Force of 1988 that made recommendations to the Florida legislature, including the creation of a statewide resource and training system, (2) as the director (with Frank Robbins) of the Florida Autism Program, the pilot program for CARD- between 1990-1993, and (3) as one of the founders (with many other professionals and family members) of Florida's statewide Center for Autism and Related Disabilities, which began operations in 1993.
"Karen Berkman and the CARD team did an extraordinary job of ensuring a high quality program, providing celebration, and creating pivotal connections," said Dr. Lise Fox, director of the Florida Center for Inclusive Communities, a University Center for Excellence in Developmental Disabilities Education, Research, and Service. "We are so proud of the CARD network and the role of USF in establishing and continuing to nurture the CARD system in Florida."
The conference was held at the TradeWinds Island Grand Resort, a hotel CARD has worked with for two years and deemed autism friendly through their business initiative. Families indicated that this location went above and beyond to accommodate their needs in every way to make for an added bonus to their attendance at the conference.
CARD-USF is now busy planning for their annual fundraiser, Fiesta by the Bay, scheduled April 19, 2013. Visit the website at http://card-usf.fmhi.usf.edu/ for additional information.
(Photos: CARD 2013 conference with standing room only; Dr. Glen Dunlap with CARD Directors and gift from VSA artist.)