Buccaneer Carl Nicks Treats CARD-USF Families to Pre-Season Games

Thank you to Carl Nicks of the Tampa Bay Buccaneers for purchasing tickets, t-shirts and food vouchers and inviting CARD families to attend both home preseason games in August!

"Many families had never been to a Bucs game and the front row seats, a story about "Going to the Bucs Game" created by CARD, and the free tickets made this amazing opportunity possible for our families," said Christine Rover, CARD program planner.

Two-time Pro Bowler Nicks played with the New Orleans Saints since 2008 and signed with the Tampa Bay Buccaneers this spring. While he plays hard on the field, he has a soft spot off the field for parents and families coping with children with autism. It is an important cause for Carl, as he has a sister with autism.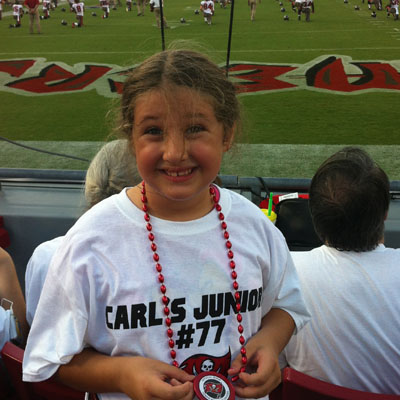 The Jewell Family (Rick, Michele, Izzi and Lexi) left no doubt how much they enjoyed the evening by sharing these thoughts: "Sometimes you just don't know what to expect, but if you don't keep providing opportunities for your children to surprise and amaze you, you will never get a chance to share their joy and excitement when they fully embrace an experience. That is what we got to share that night at the Bucs game when Izzi (photo right) got up and danced with her sister everytime the music started, when she yelled "DEFENSE" and stomped her feet with the crowd, when she was still chanting "Tampa Bay" in the car on the way home, and when she became a football fan! Thanks so much to CARD and Carl Nicks for providing us the opportunity to continue to expand Izzi's horizons and for an incredible family evening!"

More photos are posted on CARD's Facebook page.