May 6 - 12, 2012: National Children's Mental Health Awareness Week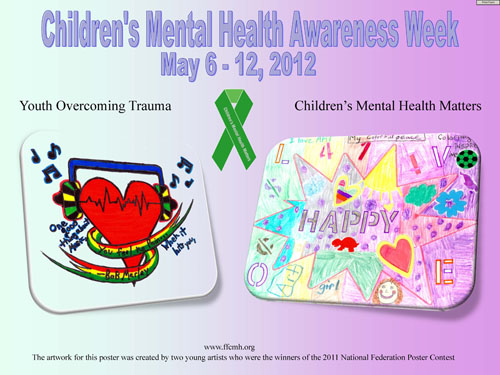 The National Federation of Families for Children's Mental Health declares the first full week in May as National Children's Mental Health Awareness Week. The week is dedicated to increasing public awareness about the triumphs and challenges in children's mental health and emphasizing the importance of family and youth involvement in the children's mental health movement! This years' focus is on Youth Overcoming Trauma.

Armed with knowledge that trauma-informed programs can lessen and prevent a wide range of health, behavioral health and social problems, many child-serving agencies are taking steps to gain a greater understanding of how trauma impacts the life of a child receiving services and orienting staff to the principles and practices of creating environments that provide trauma informed care.
"Children in public systems are especially vulnerable to the traumatic experiences of abuse, neglect, and domestic violence," said CFS Assistant Research Professor Dr. Norín Dollard. "To serve these children most effectively, we must work to increase awareness and provide tools to ensure systems and programs are trauma informed."
Dr. Dollard, along with additional CFS faculty including Kimberly Crosland, PhD, Vicki Hummer, MSW and Stephen Roggenbaum, MA have created a successful niche providing trainings in Trauma Informed Behavioral Support. They have trained direct care staff, supervisors, administrators and families at a number of child serving agencies throughout the state, including the Juvenile Justice Board at the Circuit 10 DCF office, Brevard County Schools, the Head Start/Early Head Start Program, Manatee Palms Youth Services, Magellan Public Sector Solutions, which provides services through Florida's Child Welfare Prepaid Mental Health Plan, as well as presenting to the Governor's Children's Cabinet and Florida's annual statewide Dependency Summit.
"While every training is one step closer to increasing trauma-informed environments, there is still much to be accomplished for the children we strive to protect."
For more information, contact Norín Dollard at 813-974-3761.
Additional Resources
State
National
The Department of Child and Family Studies (CFS) at the USF College of Behavioral & Community Sciences is committed to improving the well-being of individuals, children, and families within communities across the country through promoting respect, inclusion, development, achievement, mental health, and an optimum quality of life.