CARD Intern Receives First Graduate with Distinction Honor from the College of Behavioral & Community Sciences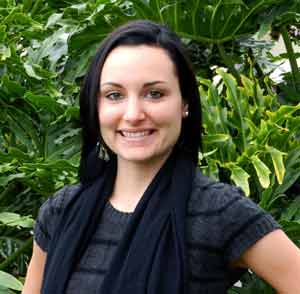 What do the USF Sundolls, the Center for Autism and Related Disabilities (CARD), and Panera Bread have in common? One successful USF student who put tireless energy into all three – on top of her undergraduate coursework, and still managed to become the first ever Graduate of Distinction honoree from the USF College of Behavioral & Community Sciences (CBCS).
Congratulations to Jessica Bernhard, who will be recognized at the Dec 9th graduation ceremonies for the USF School of Social Work program within CBCS.
It has been said that when you want to get something done, give the task to a busy person. That certainly holds true for Jessica. Aside from being on the USF Sundolls dance team (and captain at that!) with practice 2-3 times a week (not to mention the games on Saturdays and 4-5 community appearances a month) and enrolled as a full time student, she also worked 35+ hours each week to help pay for her schooling. Waking up at 4:30am 4 days a week for her work shifts, practicing for Sundolls and keeping up on all of her homework and classes has not been an easy task, but being able to overcome those challenges has brought Jessica to become the dedicated leader she is today, and a graduate with distinction honoree.
"Being a part of USF in these different aspects has taught me a lot about time management, organization and what exactly it means to really be a part of a community. I know these skills will mean a great deal to me as I start my professional career," said Jessica.
To graduate with distinction in CBCS, the student should clearly stand apart from peers. The criteria for nomination include scholarly activity, professional development, community service, and/or examples of overcoming adversity/hardships.
Jessica held a 4.0 grade point average in all her Social Work courses and an overall grade point average of 3.35. She was also awarded the Caroline Still Wiren Scholarship by demonstrating her commitment to excellence as a member of the Sun Dolls Dance Team. Jessica was recently inducted into the National Phi Alpha Honor Society, validating her dedication to excellence in scholarship and achievement in social work.
"Since starting her internship with CARD, I have found Jessica to be reliable and hard-working, as well as continually seeking out ways to further her development as a social worker. She has proven to be exemplary in her studies, professional development, and her service to the community," said Dr. Karen Berkman, CARD's Executive Director, who nominated Jessica for the recognition.
During her CARD internship, Jessica assisted Consultants during home, school and community visits. She went above and beyond expectations of working with her supervisor on the early childhood team, and initiating relationships with various team members, asking to assist them with home visits and trainings to further her knowledge. Jessica also served as a peer mentor with one of the young adults with autism who attends the Learning Academy at University of South Florida.
"It was my great pleasure to nominate Jessica for the Graduation with Distinction honor," added Dr. Berkman. "She is a wonderful asset to CARD, a leader in the social work program and an incredible representative of the College and USF."
Jessica carried her same work ethic to her job at Panera, organizing and participating in Panera's annual "Fight against Breast Cancer" to help raise money for vital breast health education and women's mammography programs in M-POWER (Moffitt Program for Outreach Wellness Education & Resources). She used her creative talents to develop a video and outfit the Panera store and staff in pink to honor those women fighting breast cancer and to build community awareness.
"I have had a full schedule since I started my freshman year with work, school and Sundolls, but I would not have learned half of those valuable skills without those aspects," said Jessica. "Looking back at the past three and a half years, I never would have thought I would be where I am today, and it is all because of the opportunities the University of South Florida has given me."