2011-2015 Florida Suicide Prevention Strategy Brochure Available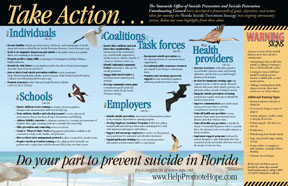 For decades, in Florida as well as the nation as a whole, suicide has occurred at a depressingly constant rate. Suicide is one of the major causes of death for teens, adults, and seniors, yet it remains among the least recognized social problems in the nation.
Ironically, while experts agree death from suicide is among the most preventable of tragedies, there is little public discussion of its scope and methods of prevention. In this silence, suicide proceeds unchecked. The Florida Suicide Prevention Strategy provides many ways for individuals and communities to start talking and take action.
The Statewide Office of Suicide Prevention partnered with the Florida Suicide Prevention Implementation Project at the University of South Florida and the College of Behavioral & Community Sciences in an effort to help raise awareness of suicide prevention action steps and the newly updated Florida Suicide Prevention Strategy. The brochure serves as an avenue to help achieve this goal. It is designed for the common individual (not individuals at risk) with the goals to highlight Florida's newly revised suicide prevention strategy and inform people how to access/get a copy of the state strategy.

The brochure highlights elements of recently revised Florida's Suicide Prevention Strategy and creates a call to action for individuals and groups such as schools, health providers, employers, coalitions and task forces. It also includes a list of warning signs and resources, and promotes the National Suicide Prevention Lifeline 1-800-273-8255 (TALK).
To request printed versions for distribution, please contact Stephen Roggenbaum at roggenba@usf.edu.