Preparing for School Success: 2,500 Florida Students Benefit from Early Intervention Program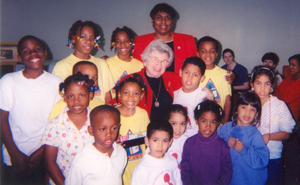 Yes, that is "Dr. Ruth" Westheimer in the photo with a younger group than she usually advises, but a group she has advocated for and supported over many years – the HIPPY (Home Instruction for Parents of Preschool Youngsters) students.
Housed within the Department of Child and Family Studies at the USF College of Behavioral and Community Sciences, the Florida HIPPY Training and Technical Assistance Center is the second largest HIPPY state office in the United States. Florida serves over 2,500 children in seventeen counties representing a variety of racial, ethnic, and cultural backgrounds such as migrant, Spanish-speaking, Haitian-Creole, and rural communities.
"The successful implementation of HIPPY in Florida's different settings has been due to the ability of each local agency to adapt the model to suit the specific needs and resources of the community," said Dr. Mary Lindsey, HIPPY State Director.
In order to break the cycle of poor educational outcomes in targeted areas, HIPPY teaches parents how to prepare their three, four, and five year old children for success in school and beyond.
"As someone who became an orphan at the age of ten, I know how difficult it can be to get an education when there are no footsteps to follow, when there isn't a well educated family behind you supporting the educational process. And that's where HIPPY comes in," said Dr.
Ruth Westheimer. "HIPPY helps families to create those footsteps that lead right up to the schoolhouse door."
Dr. Ruth served as HIPPY advisor for numerous years. Her daughter Miriam Westheimer is Director of HIPPY International.
"The early days of bringing HIPPY to the United States were filled with all the energy, excitement and frustrations that are expected in the process of implementing any creative initiative. Florida played a very unique role in that process," said Dr. Miriam Westheimer. "It was in Florida that Hillary Clinton, then First lady of Arkansas, first learned about HIPPY, and became one of HIPPY's strongest advocates. It was in Florida that State Senator Nan Rich helped to start the Miami program, with her sights on building a national effort. And, it was in Florida that Professor Henry Green wrote the first research book on the Israeli HIPPY program. There's no doubt – Florida has played and continues to play a unique role in HIPPY's growth and development."
"We believe that all children can learn and that all parents want the very best for their children, but might need support and help in developing their children's potential," added Dr. Lindsey.
(Photo above: Dr. Ruth Westheimer and HIPPY State Director Dr. Mary Lindsey visit HIPPY children in Tampa, FL)
HIPPY-USA Founding President Florida Senator Nan Rich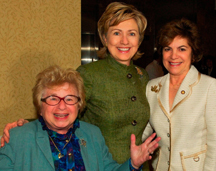 Widely recognized as one of Florida's leading champions of children's and social justice issues, Senator Nan Rich served as the Founding President of HIPPY-USA from 1991-1994. She also helped to initiate one of the first programs in Florida.
"I am proud that Miami, my community, is one of the pioneers in the US for HIPPY," said Senator Rich. "I saw how effective it was in Israel and thought it applicable to populations in the US, as well as worldwide. HIPPY fosters a love of learning and prepares children to be successful. All children deserve that opportunity and HIPPY is a key vehicle for enabling that to happen. We know how important parental involvement is for successful outcomes. If it doesn't happen at home, it's very hard to happen later."
Senator Rich established friendships and relations with Hillary Clinton and Dr. Ruth Westheimer, who were on the board of HIPPY USA when she became the first president of HIPPY-USA.
(Photo of Dr. Ruth Westheimer, Hillary Clinton and Nan RIch at a past HIPPY conference. Photo courtesy of HIPPY-USA).
Florida HIPPY Research

Several statewide HIPPY research studies are currently being conducted to determine the influence of HIPPY on children and their parents.
Better Educational Outcomes Through Better Health

To address the recent findings of national surveys in health literacy, which have shown that a considerable number of adults lack the ability to understand basic, health-related materials and do not have the information they need to keep themselves and their family healthy, a Florida HIPPY Health Literacy Pilot is being conducted in ten HIPPY sites. The pilot is using a curriculum written by University of Miami Professor Henry Green, PhD and Dr. Denise Necoechea. Dr. Green has been involved with HIPPY since its early stages in Israel and led the efforts to establish the first USA and Florida programs. He served as national chair of HIPPY USA's Board of Trustees from 2000 to 2003 and currently serves as Vice Chair of the Board of Directors of HIPPY Canada and is a member of the HIPPY Florida Advisory Committee.

"I am proud to be involved in a collaborative effort with HIPPY that empowers families and enhances and integrates education with health literacy," said Dr. Green. "The Health Literacy Pilot partners with nursing programs, where students are assigned to HIPPY children and families as their practicum (University of Miami), as well as agencies that promote health, such as the Miami Human Services Coalition. I am heartened to learn from parents that the program is nourishing and has a profound influence on health practices.

The pilot has been modified for group meeting settings rather than during home visits. Health lesson topics include: finding a doctor and dentist in your community; health insurance; visiting your doctor; understanding prescriptions and labels; healthy eating; and immunizations. Information on the effects of the Health Literacy curriculum is being collected from over 400 pretest and post test instruments completed by participating parents.
Florida HIPPY Longitudinal Study

This study is designed to demonstrate the sustainability of HIPPY's influence on children's academic performance. Five cohorts of children (approximately 800 currently) are being followed from kindergarten through the third grade to evaluate kindergarten readiness, grades in reading and math, third grade FCAT scores, grade promotion status, school attendance, and disciplinary history.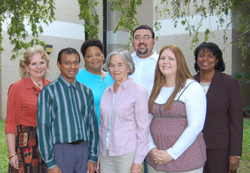 For additional information, contact the HIPPY State Office at (813) 974-2177.
Left Photo: HIPPY State Office Staff: Researcher Marsha Black, PhD; Assistant State Director Dabaram Rampersad; HIPPYCorps Coordinator Brena Brinson; Researcher Diane Powell, PhD; Staff Assistants Eric Biel and Julie Franklin; State Director Mary Lindsey, PhD
The Department of Child and Family Studies (CFS) is a department of the USF College of Behavioral & Community Sciences and is committed to improving the well-being of individuals, children, and families within communities across the country through promoting respect, inclusion, development, achievement, mental health, and an optimum quality of life.