CFS Contributes to New SAMHSA Resource Addressing Suicidal Thoughts and Behaviors in Substance Abuse Treatment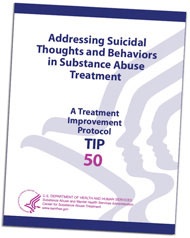 A new SAMHSA resource for substance abuse professionals and administrators enlisted the expertise of CFS's Steve Roggenbaum as a field reviewer. Treatment Improvement Protocol (TIP) 50, Addressing Suicidal Thoughts and Behaviors in Substance Abuse Treatment describes the reasons individuals with substance use disorders who are in treatment are at high risk of suicidal thoughts and behaviors, including:
They enter treatment at a point when their substance abuse is out of control, increasing a variety of risk factors for suicide.
They enter treatment when any number of life challenges (e.g., a pending divorce, run-in with the law, or loss of a job) may be happening.
They enter treatment at a peak in their depressive symptoms.
Mental health problems associated with suicidality—such as depression, post-traumatic stress disorder (PTSD), anxiety disorders, and some personality disorders—often co-occur among people who have been or are being treated for substance use disorders.
Crises that are known to increase suicide risk sometimes occur during treatment (e.g., relapse, treatment transitions).
Distributed to a growing number of facilities and individuals across the country, the TIP Series are best-practice guidelines that draw on the experience and knowledge of clinical, research, and administrative experts.
"The talent, dedication, and hard work that TIP panelists and reviewers bring to this highly participatory process have helped bridge the gap between the promise of research and the needs of practicing clinicians and administrators to serve, in the most scientifically sound and effective ways, people who abuse substances," said Eric B. Broderick, D.D.S., M.P.H., SAMHSA Acting Administrator. "We are grateful to all who have joined with us to contribute to advances in the substance abuse treatment field."
Roggenbaum was part of the research team that researched, designed, and crafted the Youth Suicide Prevention School-Based Guide. In 2008, the Youth Suicide Prevention School-Based Guide was accepted for the Suicide Prevention Resource Center's Best Practices Registry (BPR) for Suicide Prevention funded by the Substance Abuse and Mental Health Services Administration's (SAMHSA).
In addition, Mr. Roggenbaum teaches Suicide Issues In Behavioral Healthcare, an undergraduate course for the Behavioral Health Care Minor at USF. In 2007 and 2008, he was an invited member of an American Association of Suicidology (AAS) task force to help develop the School Suicide Prevention Accreditation Program.
A PDF version of TIP 50 and an accompanying literature are available online at SAMHSA's Knowledge Application Program Web site. Copies of TIP 50 (inventory number SMA09-4381) can by ordered by calling SAMHSA's Health Information Network at 1-877-SAMHSA-7 (1-877-726-4727). Copies can also be ordered on line.
The Department of Child and Family Studies (CFS) is a department of the USF College of Behavioral & Community Sciences and is committed to improving the well-being of individuals, children, and families within communities across the country through promoting respect, inclusion, development, achievement, mental health, and an optimum quality of life.