Miltenberger Named ABAI President and Receives Outstanding Mentorship Award
Inside USF/News for USF's Faculty and Staff
June 12, 2009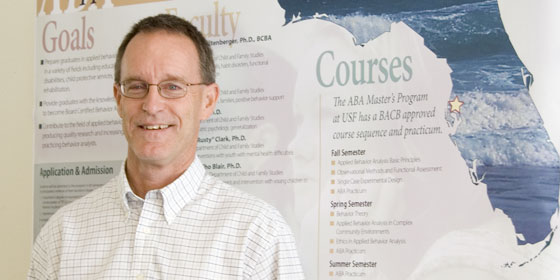 Raymond G. Miltenberger, professor of Child and Family Studies and director of the master's program in applied behavior analysis in USF's College of Behavioral & Community Sciences, was recently installed as president of the Association for Behavior Analysis International (ABAI).

ABAI is a professional membership organization whose mission is to contribute to the well-being of society by developing, enhancing and supporting the growth and vitality of the science of behavior analysis through research, education and practices. ABAI has nearly 5,000 members from 42 countries and 13,000 affiliated members worldwide.

Miltenberger was installed at ABAI's 2009 annual convention last month during which he also gave a keynote presidential address to a packed ballroom of attendees.

In addition to formally stepping into ABAI's top leadership position during the convention, Miltenberger received the ABAI Outstanding Mentorship Award. He was nominated for the award by USF students.
The Department of Child and Family Studies (CFS) is a department of the USF College of Behavioral & Community Sciences and is committed to improving the well-being of individuals, children, and families within communities across the country through promoting respect, inclusion, development, achievement, mental health, and an optimum quality of life.