Richard Briscoe Receives National Honor for Community Building and Transforming Neighborhoods
Congratulations to Dr. Richard Briscoe who was selected by NeighborWorks® America as one of eight local heroes recognized for outstanding contributions to their communities. One of the founders of Corporation to Develop Communities (CDC) of Tampa, Dr. Briscoe is a recognized spokesperson, has published articles and given national presentations in the areas of minority mental health, children's behavioral health, strengths-based approaches, and African-American families.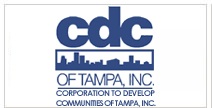 NeighborWorks® America, the nation's leading trainer of community development and affordable housing professionals, awards the Dorothy Richardson Award for Resident Leadership, an honor that each year recognizes eight community leaders from around the country and their outstanding contributions to their communities. Through years of community building, activism and service to their neighbors, individuals like Dr. Briscoe have made a difference in the lives of many. CDC of Tampa is a member of the national NeighborWorks® network.
"I am honored to receive this award," said Dr. Briscoe, "however, the true honor is the privilege of serving my community and working with groups like CDC of Tampa. I'm proud of their work and of my role in forming the organization. I look forward their continued success."
Dr. Briscoe is a Research Assistant Professor with the USF Louis de la Parte Florida Mental Health Institute's Department of Child and Family Studies (CFS). He has more than 30 years of experience as a psychologist, researcher and project director, which includes providing services and developing intervention programs for physically and emotionally handicapped individuals. Dr. Briscoe was instrumental in the founding of CDC of Tampa more than 15 years ago, and the formation of its focus on affordable housing, jobs, and capital to expand the local business community. Dr. Briscoe continues to lead by example, always willing to step in to help the CDC of Tampa find solutions to challenges presented, and his ongoing support and expertise is invaluable to CDC of Tampa and the East Tampa community.
"Dr. Briscoe has been intimately involved with CDC of Tampa since the very beginning," said Toni Watts, CEO of CDC of Tampa. "I'm grateful for his leadership and support, which continue to be invaluable. He is very deserving of this honor.
Created in 1991, the Dorothy Richardson Award for Resident Leadership honors a resident from each of its eight districts who exemplifies the qualities of Dorothy Richardson, a Pittsburgh activist and pioneer in the community-based development movement who was the driving force behind the establishment of the first Neighborhood Housing Services resident-led partnership, the forerunner of today's NeighborWorks® network.
"This year's Dorothy Richardson Award honorees have demonstrated a steadfast commitment to improving the communities in which they live," said Ken Wade, CEO of NeighborWorks® America. "Their important contributions have helped to transform and enrich their neighborhoods and towns, creating lasting benefits for countless residents. We are proud to honor them for their generous service to others."
Dr. Briscoe will be presented with the award in December during the NeighborWorks® Training Institute, in Washington, DC.
For more information about the NeighborWorks® Dorothy Richardson Award for Resident Leadership, and the 2008 honorees, visit: http://www.nw.org/network/newsroom/netNews063008.asp.