Faces of Gear Up: Hillsborough High School Students Shine with Success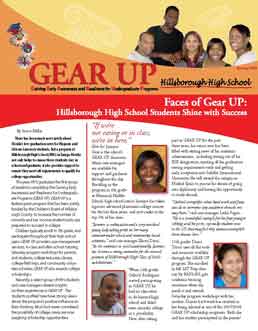 There has been much news lately about Florida's low graduation rates for Hispanic and African American students, but a program at Hillsborough High School (HHS) in Tampa, Florida not only helps to ensure these students stay in school and graduate, it also provides support to ensure they meet all requirements to qualify for college opportunities.
This year, HHS graduates the first group of students completing the Gaining Early Awareness and Readiness for Undergraduate Programs (GEAR UP). GEAR UP is a federal grant program that has been jointly funded by the Children's Board of Hillsborough County to increase the number of minority and low income students who are prepared to succeed in college.
Children typically enroll in 7th grade, and participate throughout their high-school years. GEAR UP provides case management services, in-class and after-school tutoring, Saturday program workshops for parents and students, college test prep classes, college field trips, and community volunteer activities; GEAR UP also awards college scholarships.
Recently, a select group of HHS students and case managers shared insights on their experiences in GEAR UP (download here). The students profiled have strong views about the program's positive influence on their thinking. Most had never considered the possibility of college; many are now weighing scholarship opportunities.
The Department of Child and Family Studies is committed to improving the well-being of individuals, children, and families within communities across the country through promoting respect, inclusion, development, achievement, mental health, and an optimum quality of life.