ABA Students to Provide 30,000 Community Service Hours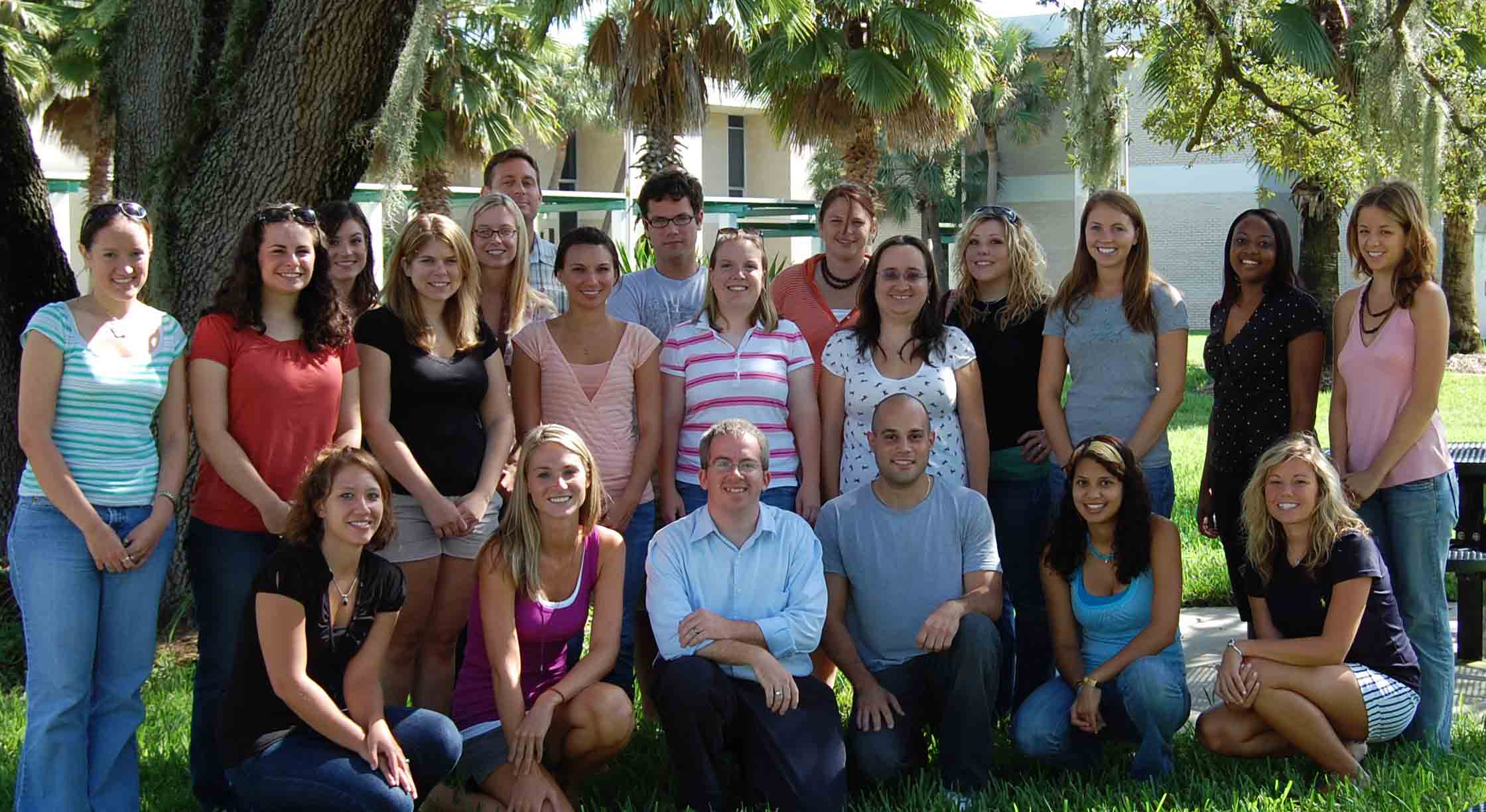 2007-2008 students of the Applied Behavior Analysis Masters Program (ABA) Program
The Applied Behavior Analysis Masters Program (ABA), reborn in 2006 under the leadership of FMHI, prepares graduates to work with individuals with challenging behaviors in a variety of fields including education, developmental disabilities, child protective services, mental health, residential supports and rehabilitation. Consistent with USF goals to create distinctive academic programs that promote community engagement and address the changing needs of society, the ABA program could be a poster child. In one year, 19 USF students provided more than 15,000 hours of needed services in the Tampa Bay community, and an additional 30,000 will be provided by the end of the 2008 summer semester. These hours are part of the practicum training required for certification.
"Our first year has been a great success," said ABA director Dr. Ray Miltenberger. "The students gained valuable information and experience and most are currently planning their thesis research based on practicum experiences."
In their thesis work, students address a range of relevant social issues, including evaluations of safety skills training to help children prevent abduction, behavioral intervention for eating disorders, teaching parenting skills to foster parents, firearm injuries prevention, and training programs to enhance the performance of staff who work with people with disabilities.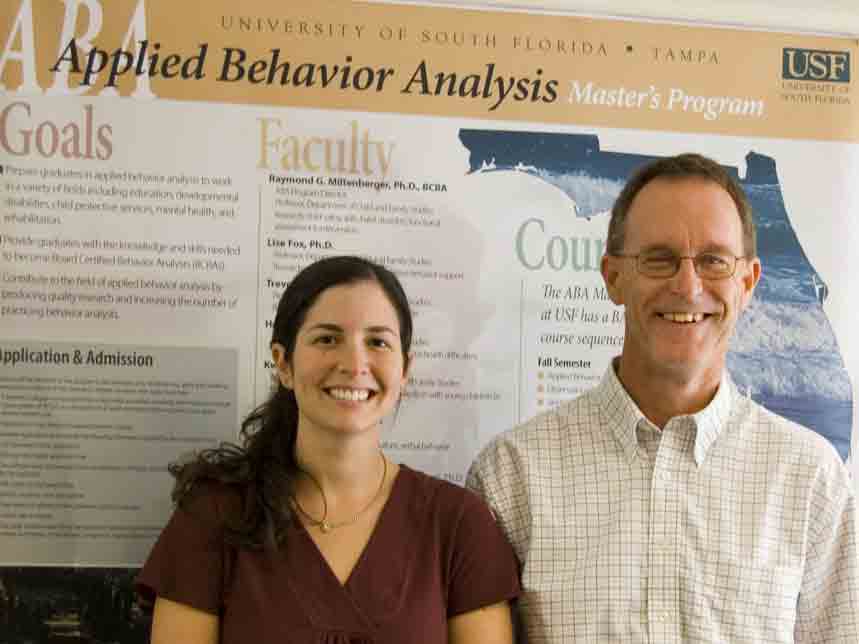 ABA student Kimberly Weiss with program director Dr. Raymond Miltenberger
"I am grateful to be working with the faculty here at FMHI," said student Kimberly Weiss, whose practicum training has involved work with foster care children and families of individuals with autism spectrum disorders. "We have been really fortunate to have professionals willing to provide us with so much guidance and knowledge."
Kimberly defended her thesis proposal in late August, which focuses on evaluating a fairly new abduction prevention program for children ages 5 - 10 years.
" Dr. Miltenberger has been extremely receptive to feedback regarding the ABA program, and has made adjustments to make sure that each student in the program graduates with the knowledge and experience that will make them great behavior analysts," added Weiss.
The program has begun its second year, with 20 new students chosen from an applicant pool of about 60. They come from USF and FSU primarily, and other parts of the country including California, Michigan, Missouri, Minnesota, Virginia, and New York.
"We are extremely pleased to have recruited such a well-qualified class of students," said Miltenberger. "They are taking a full course load this semester and are already getting placed in community agencies to begin their practicum experiences."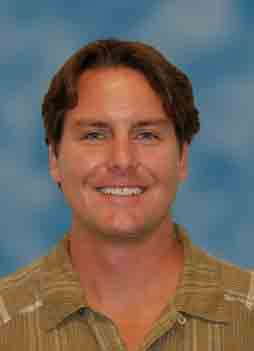 Practicum Coordinator Tim Weil, PhD
New to the program this year is Practicum Coordinator Dr. Tim Weil, a Board Certified Behavior Analyst who received his PhD from the University of Nevada, Reno.
"In the short time Tim has been in the position, he has made numerous community contacts, placed most of our students in practicum sites, and has gotten the practicum seminar off to a great start," said Miltenberger. "He has substantial applied experience in autism and a number of others areas in behavior analysis and will be an excellent professional model for our students."
In addition to overseeing their practicum experiences, Dr. Weil will teach the practicum seminar each semester, supervise thesis research, and teach an additional course in applications of behavior analysis.
"I truly believe the ABA Program at USF is a great asset to the university and to the community," added Miltenberger. "With a high level of community engagement in their practicum and thesis activities, our students will be ambassadors for USF. Already they are providing much needed services in the community. Once they graduate, they will continue to serve the community both locally and beyond Florida. I am proud to be part of the program."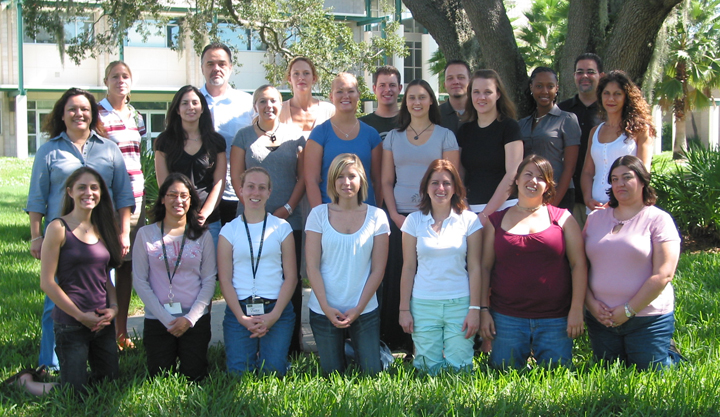 2006-2007 ABA students