Dr. Karen Berkman, CARD-USF Executive Director, Receives Joe Sanchez Jr. Leadership Award
On Friday, October 11th at the 31st Annual Mayor's Alliance for Persons with Disabilities Awards Luncheon, Dr. Karen Berkman, Executive Director of CARD, was presented the Joe Sanchez Jr. Leadership Award. She was nominated for her amazing leadership of CARD-USF and The Learning Academy for the past 15 ½ years and the wonderful initiatives and projects developed during her time:
An excerpt from her nomination stated: "Her intelligence, experience, wit, passion, desire and trustworthiness puts her in unique leadership to galvanize a coalition of partnerships to make our society a place where all can thrive."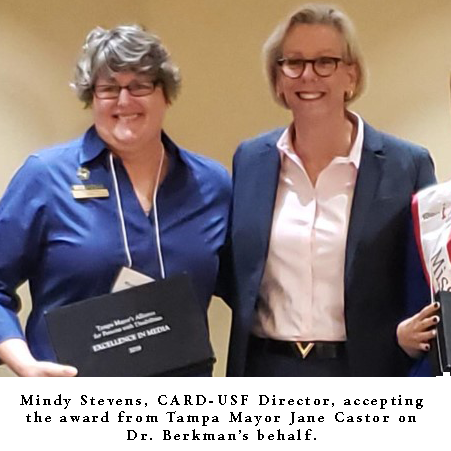 "I am very thankful for the honor," said Dr. Berkman. "I couldn't be more proud to be surrounded by and working with individuals from CARD-USF, The Learning Academy and the City of Tampa who make such a difference in thousands of lives. It has been extremely rewarding to see the growth of initiatives in Tampa supporting individuals with disabilities and I look forward to seeing more accomplishments in the future."

The Mayor's Alliance for Persons with Disabilities, under the auspices of the City of Tampa Mayor's Office, serves as an advisory/advocacy group in order to represent the interests of persons with disabilities in obtaining an independent and fulfilling life.