Proceeds from Tampa Interbay Rotary's 10th Annual Cycling for Autism Event Support USF's CARD and ABA Programs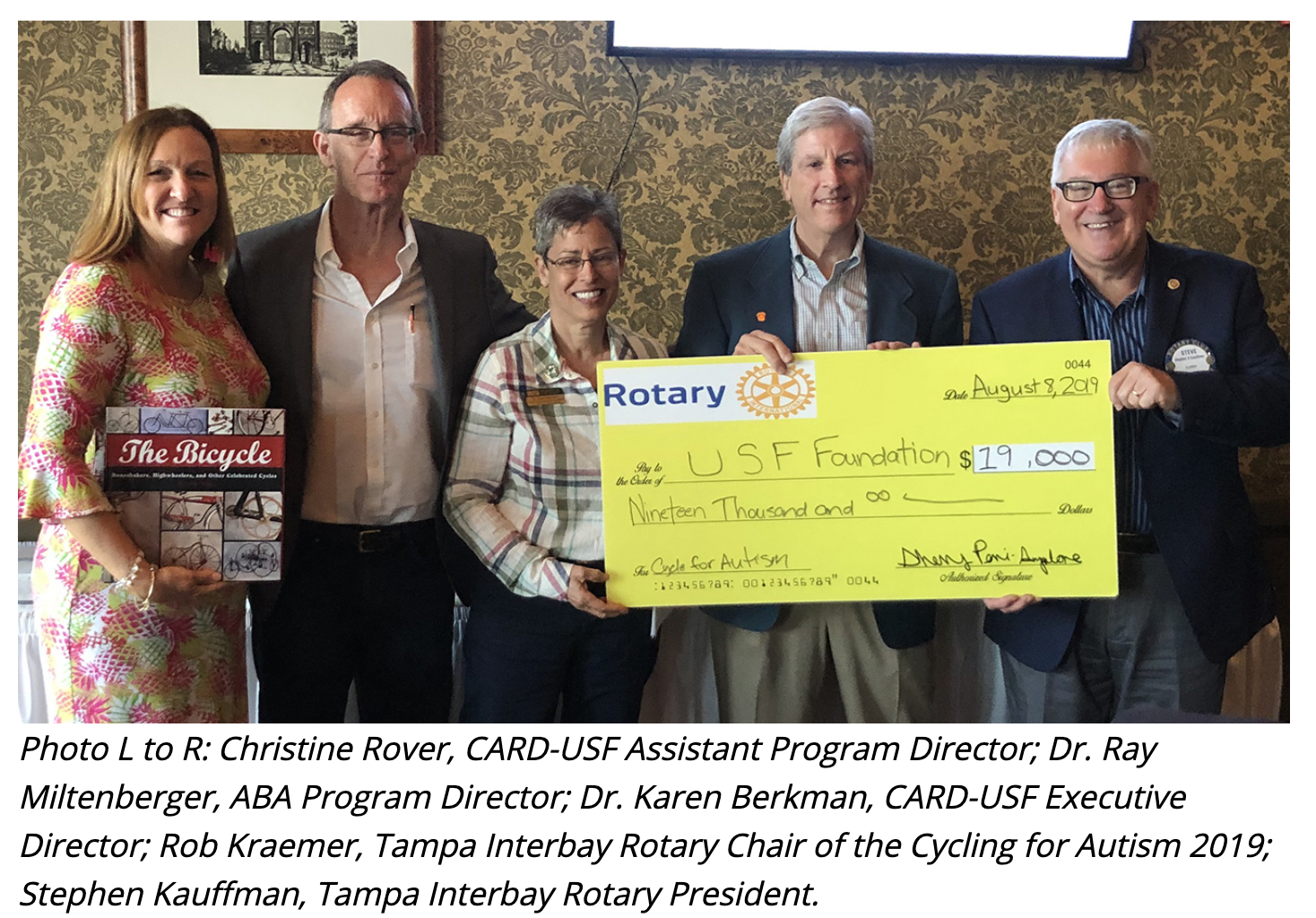 On August 8, 2019, The Tampa Interbay Rotary Club presented a check for $19,000 to the University of South Florida's Center for Autism & Related Disabilities (CARD) and the Applied Behavior Analysis (ABA) Program. Both programs support individuals with autism and related disabilities and their families. The Tampa Interbay Rotary Club has supported the programs for the past ten years through the cycling event held each spring.
"We truly appreciate all that the Interbay Rotary Club has done for us over the years," said CARD-USF Excutive Director Dr. Karen Berkman. "Proceeds helped us expand programs throughout our service area. We have been able to provide over 1,000 bicycle helmets and Autism & Safety postcards at outreach events through our safety initiatives with community partners. The funds have also supported a drowning prevention program collaboration. Outreach efforts supported through the Cycling for Autism funds help highlight our strong commitment to autism and employment initiatives empowering young adults to find success."
Funds given to the ABA program support a scholarship program for graduate students. The most recent recipient used the funds to complete her research on enhancing parent participation, improving behavioral services and access to services for Hispanic children with autism, and helping kids with autism cope with teaching demands.
"We are proud to be able to offer this scholarship to well-deserving students," said ABA Director Dr. Raymond Miltenberger. "As we continue to build tomorrow's workforce through combined coursework and practicum experiences, we appreciate the fundraising efforts of the Tampa Interbay Rotary."
"Fundraising efforts through our annual cycling event have helped raise over $200,000 for the USF's CARD and ABA programs. We are proud to help them enhance their work in delivering education, services, and support to individuals and their families," said Rob Kraemer, Tampa Interbay Rotary Chair of the Cycling for Autism 2019.