ABA Faculty Member Dr. Sarah Bloom Serves as Invited Speaker at Conferences in Israel and Turkey
Dr. Sarah Bloom, Associate Professor in the Applied Behavior Analysis (ABA) Program in USF's Department of Child and Family Studies has recently returned from Israel and Turkey, where she served as invited speaker at two conferences focused on the field of applied behavior analysis.
On June 8, Dr. Bloom delivered the keynote for ABATURKEY'S first national one-day conference for Behavior Analysis at Anadolu University in Eskisehir, Turkey. The purpose of ABATURKEY is to disseminate behavior analytic (BA) knowledge in all related areas such as psychology and social work, have BA recognized and established as a separate discipline, increase the research and practice efforts in BA, and communicate and collaborate with international BA communities more effectively.
While in Turkey, Dr. Bloom also met with local students, faculty, and clinicians in Eskisehir and Istanbul, and met with researchers at the Research Institute for the Handicapped and the Algi group.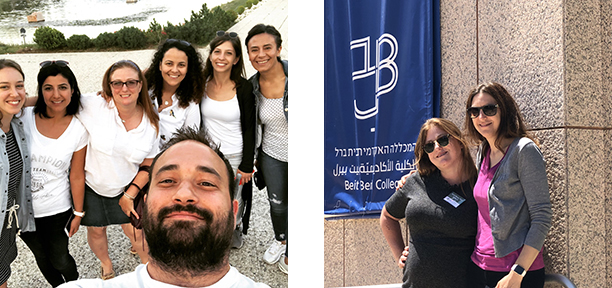 The following week, Dr. Bloom delivered a keynote address and a workshop at the National Organization of Israeli Behavior Analysts conference held at Beit Berl University between K'far Saba and Tel Aviv, Israel.

"Presentation of your research on the modification of functional analysis methodology would be a most valuable and welcome contribution to the conference," said Dr. Amos Rolider, Dean of Students and Professor of Kinneret Academic College in Israel and Chair of the Israel Organization for Certified Behavior Analysts. "Your presentation would no doubt promote the advancement of training of behavior analysts and future behavior analysts in Israel."
During her stay in Israel, Dr. Bloom also met with students and faculty from Beit Berl and Kinneret Universities, behavior analysts working in private clinics and public schools, and Dr. Amos Rolider, a national personality who has a weekly television show called "Family First" on parenting using behavior analysis.
"I look forward to continued collaboration with Turkey and Israel," said Dr. Bloom. "There may be future research and educational opportunities for USF undergraduates and doctoral students in both countries. Kinneret College would like to develop a partnership with USF to start a doctoral program there, which would be the first doctoral program for behavior analysis in Israel."