FCIC's Trainee Gary Lam featured on AUCD's Emerging Leaders Map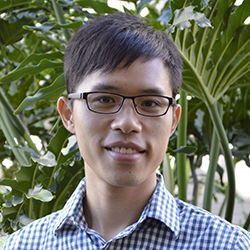 Gary Yu Hin Lam, doctoral candidate in School Psychology at the University of South Florida and trainee with the Florida Center for Inclusive Communities (FCIC), is currently being featured on the AUCD Emerging Leaders Map. This map highlights diverse trainees and early career leaders across the Association of University Centers on Disabilities' network (AUCD). Trainees are nominated by others in their centers and are selected based on their contributions to the network, how they have demonstrated leadership, and their values and commitment to diversity, inclusion, and respect for others. Gary is one of 32 trainees selected this year from the nation's 52 LENDs, 67 UCEDDs, 14 IDDRCs, and 12 DBPs.
Gary's research and practice interests include providing quality psychological services for youth and their families across educational, clinical, and community-based settings. His professional goal is to promote well-being among individuals with autism across the lifespan. He is currently completing his clinical internship at the Center for Mental Health Policy and Services Research at the University of Pennsylvania.
FCIC is one of 67 UCEDDs nationwide that provide service, education and research in developmental disabilities. Our Interdisciplinary Training Program delivers an integrated education model that provides students with instruction, support, and mentorship from faculty and staff who are nationally recognized in the field of developmental disabilities. Our trainees include graduate and doctoral students in disciplines such as behavioral health, psychology, education, applied behavior analysis, public health, medicine, social work, and other related disciplines.
For more information on FCIC's Interdisciplinary Training Program please contact Laura Rodriguez Lopez at lrodri11@usf.edu or visit www.flcic.org.