Dr. Liz Perkins is Forging New International Alliances in England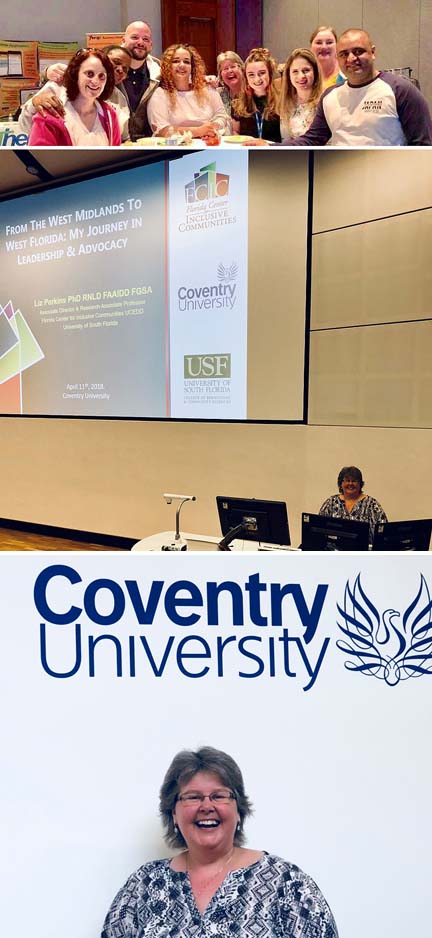 FCIC's Associate Director Dr. Liz Perkins is forging new international alliances across the pond. Dr.Perkins recently visited faculty and students at the Department of Health and Life Sciences, Coventry University in England, and gave two invited lectures to students in the nursing programs. The first lecture, "From the West Midlands to West Florida: My Journey in Leadership & Advocacy" described her career and experiences before, during, and after she trained as a Registered Nurse Learning Disabilities (RNLD) in England, and her subsequent career in academia in the USA. Her second lecture was "Promoting Successful Aging in People with Learning Disabilities." She was hosted by fellow RNLD and lecturer at Coventry University, Mr. Ijaz Mahmood, and was also given a tour of their brand new state-of-the-art health and care simulation center.
This follows from the previous month when Dr. Perkins played host to a delegation of eight RNLD students and faculty who attended the Developmental Disabilities Nurses Association (DDNA) annual national conference in Orlando. Developmental disability includes people with intellectual disabilities – which is the equivalent term to the UK's learning disability. Dr. Perkins facilitated the connection and planning between Coventry University's Vicky Sandy-Davies (Senior Lecturer), Ijaz Mahmood, and DDNA Executive Director Diane Moore. Says Perkins, "the DDNA leadership, board members, and conference attendees could not have been more welcoming to our British visitors." Dr. Perkins and Mr. Mahmood co-presented the lunch-time plenary session "Developmental Disability Nurse Training: An International Perspective from Britain". Two students from Coventry's Learning Disability nursing program also spoke briefly during the presentation about their experiences thus far.
Dr. Perkins commented, "Many people find it astonishing that Britain has over 20,000 RNLDs but the USA only has just over 400 Certified Developmental Disability Nurses (the nearest equivalent to the RNLD qualification), especially when one considers that the USA population is over 5 times that of the UK's!"
Dr. Perkins gives numerous lectures every year to students in USF's Medical, Nursing, Public Health, and other allied health programs, as well as training providers in the community, regarding the importance of appropriate supports for people with disabilities in health care settings and clinical encounters. She has also developed numerous health advocacy and education resources. For further information please contact Dr. Perkins or visit the Florida Center for Inclusive Communities' program areas in health.
Pictures – Top, Coventry group. Ijaz Mahmood (far right) with Dr. Perkins (center) and Student Nurses from Coventry University. Middle and bottom, Dr. Perkins giving invited lecture at Coventry University.