2017 Cohort of ABA Doctoral Students Gain Valuable Teaching Experience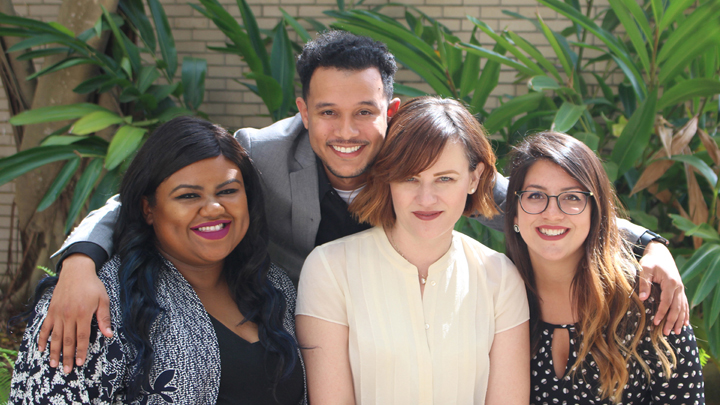 As part of the ABA PhD program, students complete a carefully designed series of courses with their cohort. They also have mentored and independent experiences teaching their own classes to undergraduate students.
Our newest cohort of doctoral students (incoming Fall 2017) are doing great! They are all teaching classes in the ABA minor and doing a fantastic job. Keep up the great work! (In photo above, left to right) Marlesha Bell, Anthony Concepcion, Jennifer Cook and Hannah MacNaul. See more about them below.
| | |
| --- | --- |
| Marlesha Bell | Marlesha Bell is a California State University, Northridge (CSUN) graduate. Her research interests involve modifications of the assessments and treatment of severe problem behavior to make it more efficient, accurate, and safe. Additionally, she is interested in adapting behavior analytic services to the growing diverse populations that behavior analysts serve. Marlesha's goal is to graduate and obtain a faculty position at a university where she can teach and conduct research. Her goal is to be a mentor to all students, particularly students of culturally diverse backgrounds, because she recognizes the value of education. |
| Anthony Concepcion | Anthony Concepcion obtained an undergraduate degree in psychology with a concentration in ABA from Florida International University and a master's degree in behavior analysis from the University of Maryland Baltimore County. Prior to attending USF, Anthony worked as a Clinical Specialist II at Johns Hopkin's Kennedy Krieger Institute within the Neurobehavioral Unit. His research interests involve working with individuals with intellectual and developmental disabilities; with a focus on a) the assessment and treatment of severe problem behavior, b) Individualized learning arrangements, and c) translation of basic behavioral processes to clinical application. Anthony plans to pursue a career in academia. |
| Jennifer L. Cook | Jennifer Cook, a 2017-2018 University Graduate Fellowship awardee, has been working in the field of ABA since 1999 in positions including therapist, training workshop facilitator and clinical coordinator. Most recently, she was the Manager of Clinical Services and Research at Monarch House in Ontario, Canada. She received her master's degree in ABA from St Cloud State University in Minnesota. Jennifer has nine peer-reviewed publications and a book chapter in press. Some of her interests include physical activity, eye contact, stereotypy, compliance, and verbal behavior. |
| Hannah MacNaul | Hannah MacNaul obtained her undergraduate degree in psychology from Texas State University and her master's degree in school psychology from the University of Texas at San Antonio. Her research interests include fostering collaboration between school psychology and the field of behavior analysis as well as the assessment and treatment of problem behavior in individuals with disabilities. Upon graduation, Hannah plans on going into academia and teaching both school psychology and behavior analysis courses. |