ABA Master's Student Kelsey O'Neill Receives $16,000 Fellowship Grant from Behavioral Consulting of Tampa Bay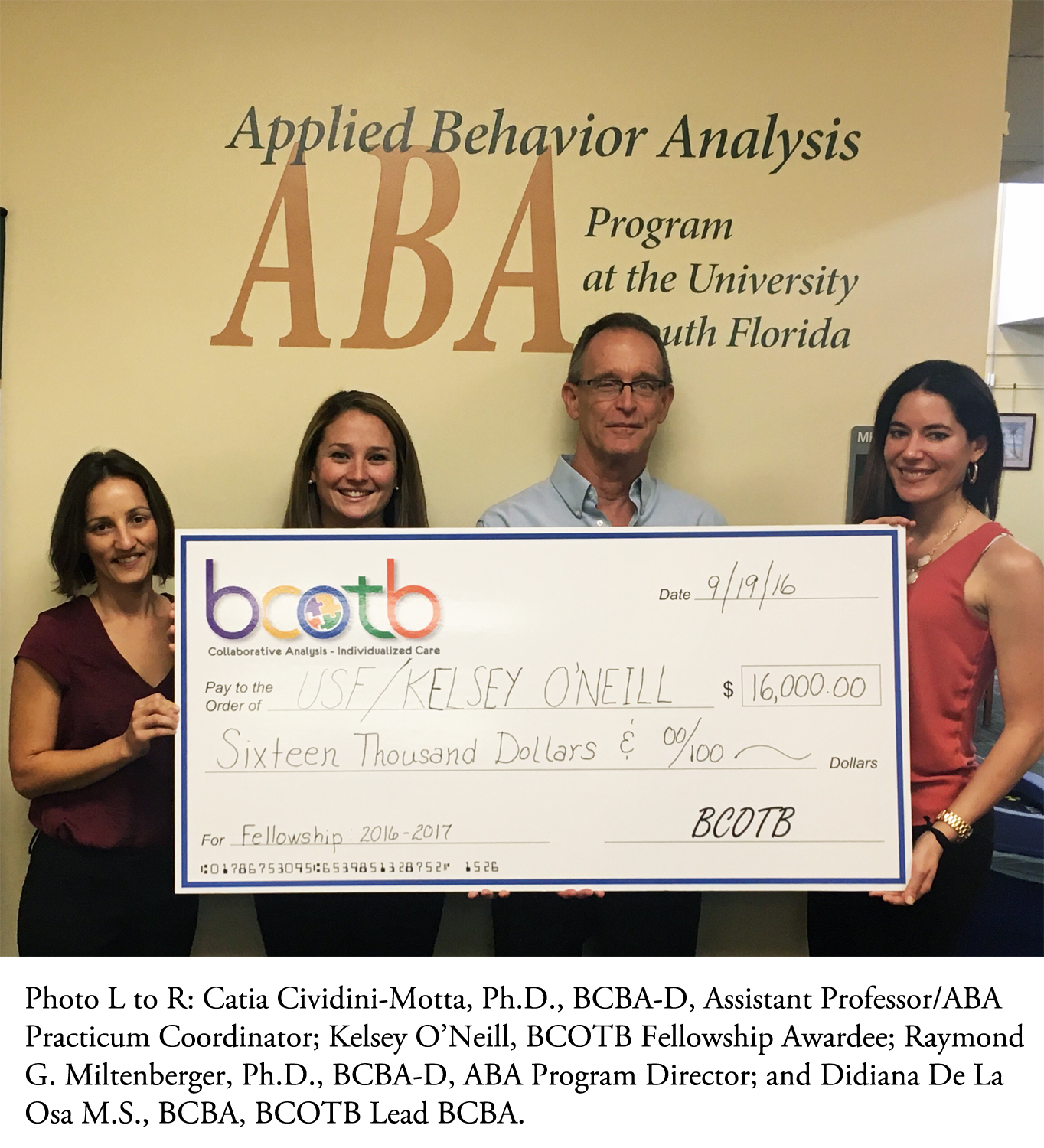 University of South Florida student and Board Certified assistant Behavior Analyst (BCaBA), Kelsey O'Neill has been awarded a $16,000 fellowship grant by Behavioral Consulting of Tampa Bay (BCOTB).
BCOTB, a leader in Applied Behavior Analysis (ABA) Therapy and a long-time partner of the ABA program at USF, established the fellowship program in 2016 to provide financial assistance for students who are pursuing their Master's Degree in ABA and have demonstrated a desire to pursue a career helping individuals with behavioral needs.
Currently a second year Master's student in the ABA program at USF, Kelsey has worked in the ABA field for three years and has had experience working with children with an Autism Spectrum Disorder (ASD) and other developmental disabilities.
"Along with the educational financial assistance of the Fellowship Program, Kelsey will also experience a valuable working practicum experience with a BCOTB clinic", said Marilyn Prcic, Senior Director of Clinical Operations at BCOTB.
As part of the fellowship, Kelsey will complete one year of a paid practicum at BCOTB to help her gain a variety of experiences that will prepare her to become a BCBA. Her stipend will allow Kelsey to work less this year so that she can focus more on her thesis under the supervision of Dr. Raymond Miltenberger. She is interested in the application of behavioral principles to athletics and will be evaluating the effects of Behavioral Skills Training on improving field hockey shots. (Field hockey is a favorite sport of hers.) Finally, upon graduation, Kelsey will be employed by BCOTB.
O'Neill chose a career in behavioral health because she believes that it is a rewarding field in which the lives of individuals receiving behavioral services are positively impacted. She hopes to pursue a Ph.D. one day in ABA.
"I feel very privileged to have been awarded this opportunity. I am excited to begin working for BCOTB and to receive the supervision I need to become a more effective behavior analyst," O'Neill said.