RMHC Master's Students Receive John A. Orphanidys Scholarship Award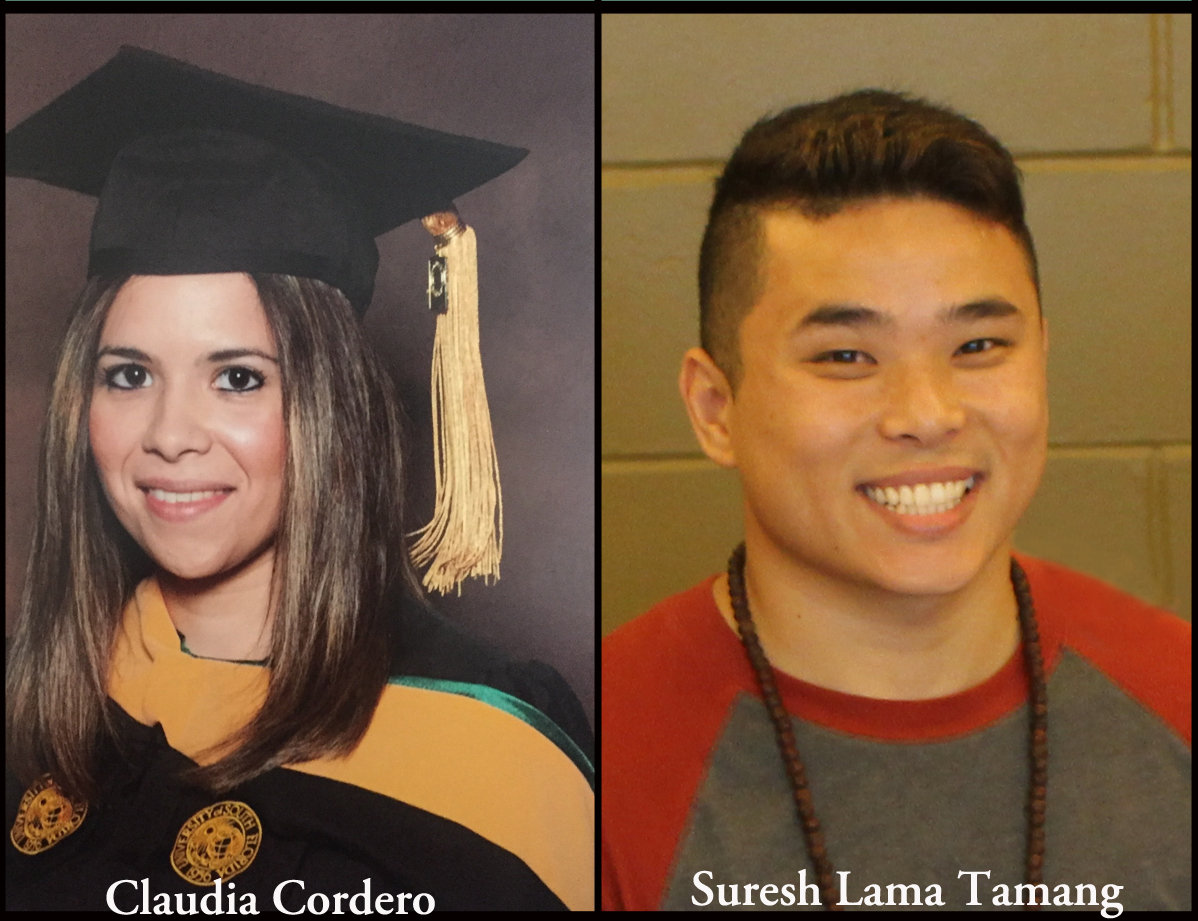 Congratulations to Rehabilitation & Mental Health Counseling (RMHC) master's students Claudia Cordero and Suresh Lama Tamang for being awarded the John A. Orphanidys Scholarship Award, sponsored by the Florida Chapter of the International Association of Rehabilitation Professionals (IARP). The award will cover airfare, lodging and per diem to attend the 2016 IARP/ISLCP Annual Conference being held in Pittsburgh, Pennsylvania in October.

This scholarship was established to promote graduate level rehabilitation education, and to recognize Florida vocational rehabilitation graduate students who have expressed a commitment to work in private vocational rehabilitation. The namesake of the scholarship, Mr. John Orphanidys, is a past president of the Florida IARP chapter and had a passion for student development and mentoring of up and coming private sector rehabilitation counselors.
Claudia Cordero graduated from the University of South Florida with a Master of Arts in Rehabilitation and Mental Health Counseling in the Summer of 2016. She additionally obtained a certification in Marriage and Family Therapy. Earlier this year, Claudia was selected as a Calvin Pinkard Scholar. She completed her graduate practicum and internship hours with Dr. Gimon and Associates, where she provided counseling, and conducted neuropsychological and psycho-educational evaluations. Claudia is a member of IARP and is currently working towards obtaining certification as a rehabilitation counselor. She lives in Orlando, Fl and works as a clinician at Alternative Directions.
Suresh is in his 7th semester in the RMHC program and is a RSA Scholar, which is aimed at increasing the number of rehabilitation counselors in public and private sectors and in nonprofit agencies involved in the vocational rehabilitation of individuals with disabilities. He will also meet the requirement to receive the Integrative Counseling Certificate through the program. Suresh received his B.A. degree from George Mason University in Fairfax, Virginia. He has gained experience working as a qualified mental health professional, Substance Abuse Counselor at Salvation Army, Vocational Rehabilitation Case Manager in the private sector, and is now venturing in vocational rehabilitation in the public sector.