CARD-USF Receives Funding for Pilot Program Aimed at Improving Wandering Outcomes for Individuals on the Autism Spectrum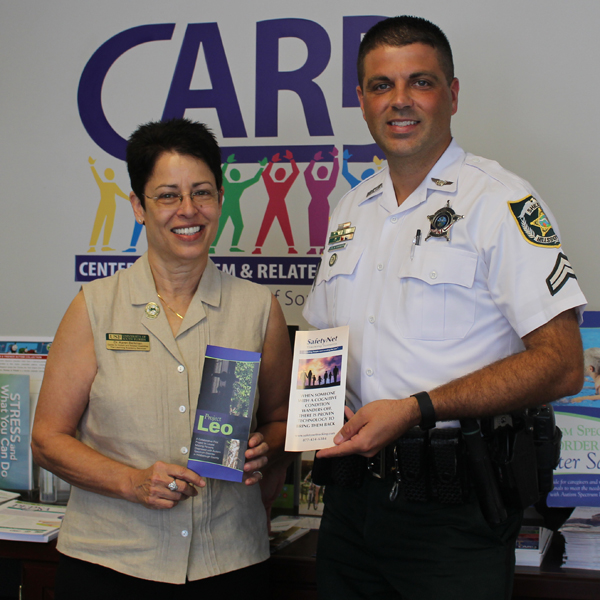 On August 13, 2014, little Leo Walker of Live Oak, Florida slipped out of his house in the middle of the night. A statewide Amber Alert was issued and a massive search and rescue was initiated by law enforcement agencies and volunteers. Unfortunately, on August 15, 2014 a body was discovered and two days later, identified as 9 year old Leo Walker.
On October 25 of that same year, 8 year old Peyton Blodgett went missing from his grandmother's home in Baker County. Again, a statewide Amber Alert was issued and a massive search and rescue ensued. Peyton was found approximately 48 hours later; under a bush about 700 feet in the dense woods behind the home where he was last seen. A Deputy in a Florida Fish and Wildlife Conservation Commission helicopter spotted the boy and alerted the deputies on the ground. Although Peyton was hospitalized after he was found, Peyton's story had a better ending.
What makes these two stories similar, both boys have Autism. Suwannee County, Live Oak Police Chief Buddy Williams reached out to Representative Elizabeth Porter (R-Lake City) and asked what resources were available to help those individuals with autism that had a history of elopement. As a result, Leo's Law, a bill that was introduced to the Florida Legislature by Representative Porter, was developed. This bill created a pilot program to get technology and training in the hands of law enforcement in specific counties in Florida for families with children on the autism spectrum who may be at risk of wandering out into the community unsupervised. Representative Dana Young was instrumental in bringing this pilot to Hillsborough County.
SafetyNet™ is a company with proven technology for finding and rescuing people at risk of wandering and becoming lost. They have worked with the Hillsborough County Sheriff's Office for several years to use radio frequency technology that has saved precious lives as well as millions of dollars in resources with every rescue that changes search time from days to hours or minutes. This is not used for surveillance measures of a child, because children are not tracked until such time that they are missing due to wandering. This is a voluntary program administered through the Center for Autism and Related Disabilities at the University of South Florida (CARD-USF). The CARD center works with the Hillsborough County Sheriff's Office to determine eligibility and issue tracking devices to individuals who have a history or risk of elopement at no cost to the family. This device is then enrolled with SafetyNet™.
Autism Spectrum Disorder (ASD) affects 1 in every 68 children in the U.S.A. Leo's Law is being implemented locally in Hillsborough County where there are already over 2400 individuals with ASD registered with CARD-USF, with additional programs in Alachua, Baker, Columbia, Hamilton, Suwanee and Palm Beach counties. The Centers for Autism and Related Disabilities (CARD) will administer the programs and reporting requirements and will also assure proper oversight so that this pilot program may one day spread across the state and include others at risk including those individuals with dementia.
Funding provided by the Florida Legislature will help CARD-USF provide up to 210 tracking devices in Hillsborough County.
"It is our hope that the pilot will continue beyond the one year and expand to other counties we serve," said Dr. Berkman.
View brochure. For further information, contact CARD-USF at 813-974-2532.
View Bay News 9 news story.
(Photo above: CARD-USF Director Dr. Karen Berkman and Corporal Benjamin Coddington of the Hillsborough County Sheriff's Office team up to share information on Project Leo, a collaborative pilot project to locate missing persons diagnosed with Autism Spectrum Disorder in Hillsborough County.)