VA Smart Home Project Team & RMHC Faculty William Kearns Place Third in National Competition
Congratulations to RMHC Associate Professor William Kearns, member of the VA Smart Home project team that achieved 3rd place nationally at last week's National Brain Trust competition in Washington, DC. The competition was part of a summit hosted by the U.S. Department of Veterans Affairs' Center for Innovation to facilitate national, partnership-based solutions in the general areas of mild traumatic brain injury (mTBI) and Post-Traumatic Stress Disorder (PTSD). The summit promotes forward-thinking dialogue and innovative collaboration among private industry, national/professional sports organizations, the Federal government, innovators, scientists, athletes, clinicians, care-givers, and Veterans.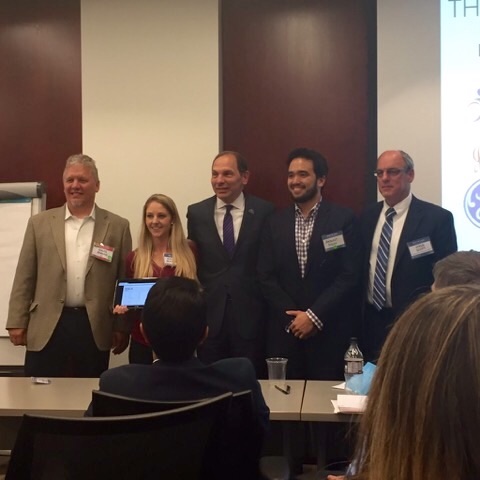 The VA Smart Home project PI, Dr. Steven Scott and team member Kristina M. Martinez participated directly in the competition, which took the form of a "Shark Tank" where contestants promoted their projects before critical reviewers that included Secretary of Veterans Affairs Robert A. MacDonald (a member of the President's Cabinet), and industry leaders from IBM and other major firms. The team members had just two minutes to market their Smart Home technology, which monitors residents' behaviors and provides behavioral assistance for various neurological and physical disabilities.

There were over 110 submissions, of which 50 made the initial cut for inclusion in the national competition. At the end of the 3-day competition, VA Smart Home won 3rd place.

"Needless to say, we're delighted to bring well deserved credit to our partner, the James A. Haley Veterans Administration Hospital, and to the University of South Florida," said Dr. Kearns.
(Photo L t R: David Jenkins from IBM, Kristina Martinez from James A. Haley Veterans' Hospital, Secretary of Veterans Affairs Robert A. MacDonald, Anthony Dizon from Booze Allen Hamilton, and Dr. Steven Scott from James A. Haley Veterans' Hospital.)

For additional information, visit the links below.