700 Attend the 29th Annual Research & Policy Conference on Child, Adolescent, & Young Adult Behavioral Health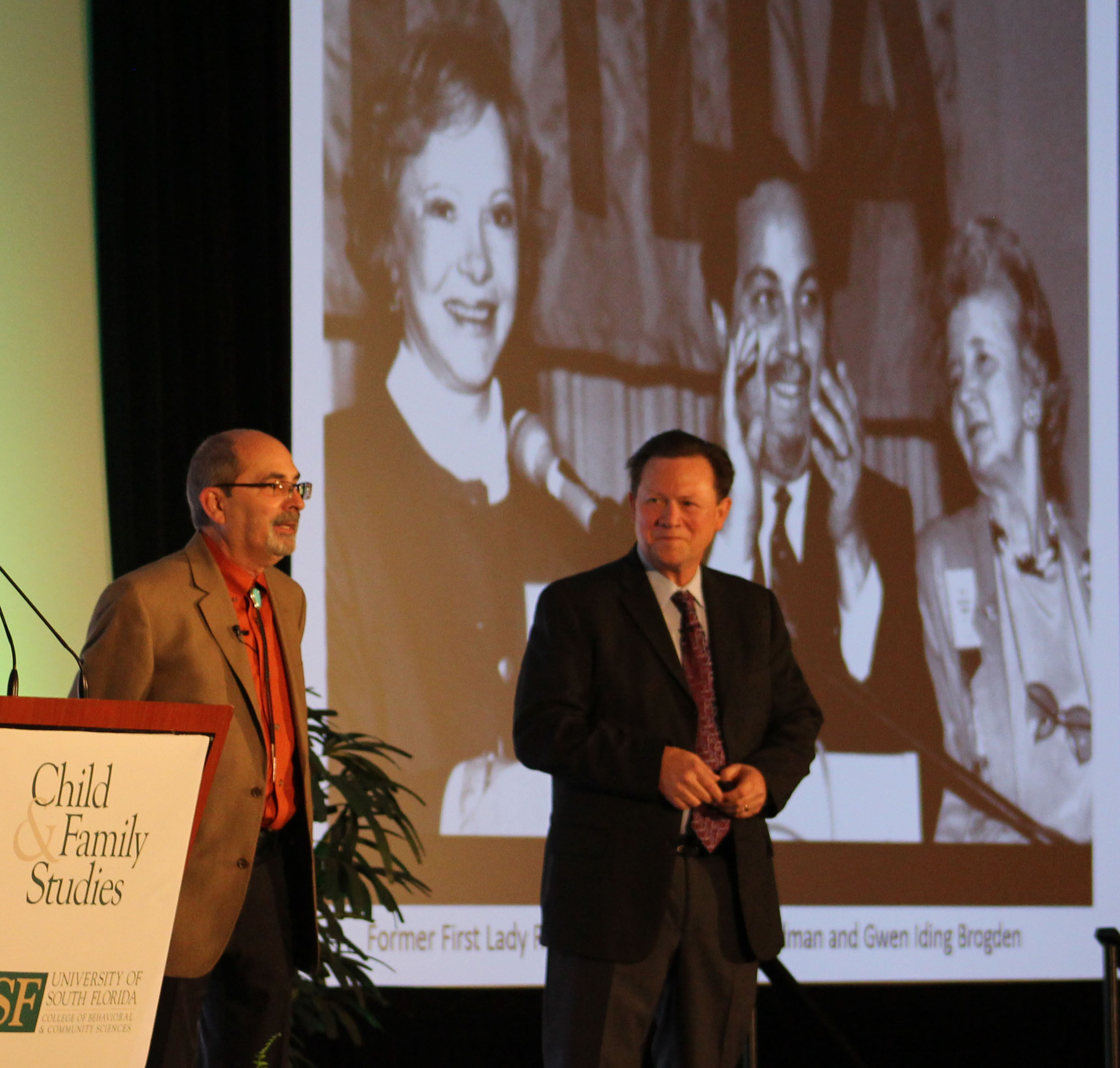 Hosted by the Department of Child & Family Studies, the 29th Annual Research & Policy Conference on Child, Adolescent, & Young Adult Behavioral Health brought together more than 700 researchers, policy makers and advocates dedicated to shaping behavioral health services and prevention. The proceeds from the conference are used to support the planning efforts and special speakers for this annual conference held in Tampa. (Photo right: CFS Department Chair Dr. Mario Hernandez and Conference Planner Scott Bryant-Comstock welcome 2016 attendees while sharing historical timeline.)
A diverse selection of plenary sessions focused on a variety of current and relevant topics. (See below) In addition, topical tracks created by conference partners included an opportunity for participants to select areas of interest, including: evidence-based practice in systems of care; innovations in wraparound; research specifically focused on emerging adults; translational research in adolescent behavioral health; and a track focusing on changing norms, strategies, and systems to support behavioral health and social justice. Two new tracks were added to the program this year, bringing increased attention to new developments in child welfare to prevent or treat child maltreatment; and how to support culturally relevant research, practice, and policy improvements for Native American families and youth.
Participants were able to connect with colleagues and develop new relationships that will help enrich their research and policy activities. In particular, the poster sessions on Sunday and Tuesday evening, and the networking luncheon provided perfect opportunities for conversation and discovery. View 29th Agenda.
Plenary Sessions:
Place, Race, and Disease: Addressing the Roots of Behavioral Health Disparities
Brian D. Smedley, PhD, co-founder and Executive Director of the National Collaborative for Health Equity, Washington, DC
His discussion focused on the role of place, and in particular, residential segregation as a root cause of substance abuse and mental illness. Special attention was devoted to policy strategies that address community-level health risks, as well as the role of racism as a determinant of health.
Impact of Historical Trauma and Adverse Childhood Experiences on American Indian Health Inequity
Donald Warne, MD, MPH, Chair, Department of Public Health at North Dakota State University, Senior Policy Advisor to the Great Plains Tribal Chairmen's Health BoardDeath rates from diabetes, cancer, infant mortality, suicide and other causes are higher among the American Indian (AI) population. Dr. Warne discussed the social circumstances that can have an impact on the quality of parenting skills for the next generation, leading to continued inter-generational health disparities.

Early Intervention in Psychosis: Youth Perspectives, State Efforts, and Research Findings
Presenters: Tamara Sale, MA, Program Development Coordinator, Early Assessment and Support Alliance, Regional Research Institute (RRI), Portland State University; Amy Goldstein, PhD, Program Chief, Child and Adolescent Treatment and Preventive Intervention Research Branch, Division of Services and Intervention Research, National Institute of Mental Health; Janet Walker, PhD, Co-Director Pathways to Positive Futures RRTC, Director of Research, Early Assessment and Support Alliance, Regional Research Institute (RRI), Portland State University, Nicholas Buekea, research assistant at Portland State University Pathways to Positive Futures, Michael Haines, peer support specialist at the EASA/Transition Age Youth program at PeaceHealth in Eugene, Oregon.

This plenary introduced a variety of perspectives on new developments in research, policy and practice related to early intervention in psychosis that have drawn increased attention and funding to efforts aimed at improving outcomes and preventing disability for young people who are experiencing the symptoms of psychosis for the first time.
Why Paper Tigers Works – Behind the scenes with the Children's Resilience Initiative in Walla Walla,WA.
Theresa Barila, co-founder, Children's Resilience Initiative, Walla Walla, WA shared the "back-story" to the documentary Paper Tigers, now in national screenings. Theresa will describe how a focus on common language, common agenda and the community capacity development model of the Family Policy Council, created the context, structure and support not just for Paper Tigers but for the many other untold resilience-based stories underway in Walla Walla.

Addressing the Impact of a Changing Health Care Environment through Behavioral Health Research and Policy
Larke Nahme Huang, PhD, Director, Office of Behavioral Health Equity, Substance Abuse and Mental Health Services Administration, Rockville, MD,
discussed the impact of a changing health care environment on behavioral healthevaluators, researchers, policy-makers and practitioners.