RMHC Faculty Member Aaron Norton Receives Counselor Educator of the Year Award from FMHCA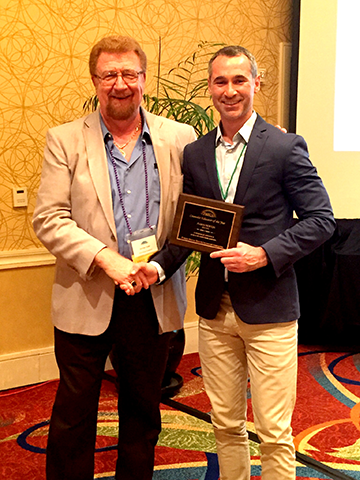 Congratulations to Rehabilitation & Mental Health Counseling Alumni and Adjunct Faculty member Aaron Norton, MA, LMHC, LMFT, MCAP, CRC, CFMHE who received the "Counselor Educator of the Year" at the Florida Mental Health Counselors Association (FMHCA) conference in Lake Mary, Florida February 4 – 6.
He was recognized for his efforts as Chair on the FMHCA Education Committee, where he implemented a free Emerging Issues Webinar Series for FMHCA members (both student and clinical members).
The webinar series includes a qualified panel of experts in a range of relevant topics that will help to keep counselors updated with their rapidly evolving profession. Attendance is FREE to FMHCA members as a new benefit of membership, and CEUs will be available at a nominal cost of $10 for FMHCA members or $30 for non-members.
Photo left to right: FMHCA President Michael Holler with Aaron Norton.