Dr. Lise Fox: Invited Presenter at the White House for 40th Anniversary of IDEA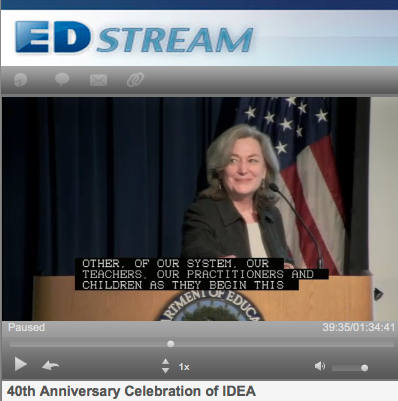 Dr. Lise Foxwas an invited guest and presenter at the federal celebration of the 40th anniversary of the passage of the Individuals with Disabilities Education Act (IDEA), a law ensuring services to children with disabilities throughout the nation. Dr. Fox participated in the White House Celebration and was a presenter on a panel of national researchers in a symposium on the status and future of special education.
Dr. Fox's presentation, Looking to the Future in Early Intervention and Early Childhood, was part of a symposium that included a panel of distinguished researchers who shared their expertise in special education and discussed the future for promoting even greater educational achievement by students with disabilities. In addition to Dr. Fox, panelists included: Sharon Vaughn, Lynn Fuchs, Rob Horner, Michael Wehmeyer, Lisa Dieker and David Test. View presentation.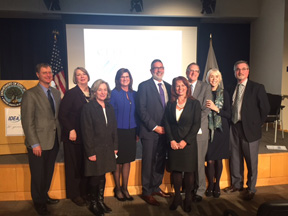 Dr. Fox shared that "It was an honor to be with the distinguished leaders in special education and education, reflect on the history of special education, and renew our commitment to ensuring that every child with a disability will be able to achieve full participation, economic self-sufficiency, equality of opportunity, and independent living."
Dr. Fox has extensive experience in early education and early intervention and supporting learners with severe disabilities, and has conducted research in the areas of program improvement, professional development, naturalistic teaching approaches, and positive behavior support. She is widely known for her work in the development of the Pyramid Model for promoting the social and emotional competence in infants and young children. Dr. Fox has extensive experience in providing training and technical assistance to states and programs and is the author of many articles, chapters, and is the co-author of the Teaching Pyramid Observation Tool published by Paul H. Brookes Publishing.
View additional information about IDEA.
(Photo top: Dr. Lise Fox presenting during the 40th Anniversary Celebration of IDEA.)
(Photo bottom L to R: Rob Horner, University of Oregon; Sue Swenson, Deputy Assistant Secretary, Office of Special Education and Rehabilitative Services, U.S. Department of Education (USDOE); Lise Fox, University of South Florida; Melody Musgrove, Director, Office of Special Education Programs, USDOE; Michael Yudin, Assistant Secretary, Office of Special Education and Rehabilitative Services, USDOE; Lisa Dieker, University of Central Florida; David Test, University of North Carolina – Charlotte; Sharon Vaughn, University of Texas, and Michael Wehmeyer, University of Kansas.