Dr. William Kearns, Helping Veterans to "Age-in-place" at the Friesen International Conference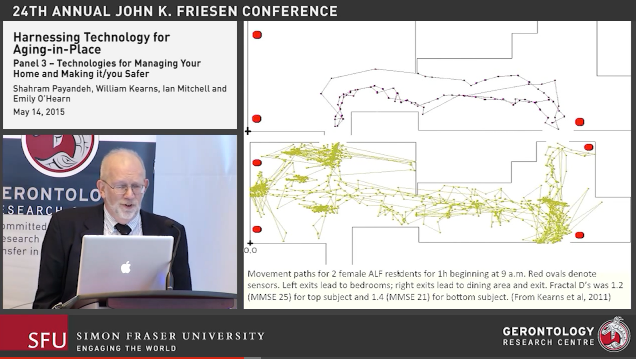 At the 2015 John K Friesen International Conference "Harnessing Technology for Aging-in Place," Professor William Kearns, faculty in the Department of Child & Family Studies' Rehabilitation & Mental Health Counseling Program/College of Behavioral and Community Sciences at the University of South Florida, presented opening remarks and a paper on his current work, "Extending Smart Home Technology for Persons with Cognitive Impairment."
"Aging-in-place" is a term used to describe a person's ability to live in the residence of their choice for as long as they are able, while receiving services that maintain quality of life. This is a major research focus for Dr. Kearns, who is President of the North American Chapter of the International Society for Gerontechnology.
In his opening address, Dr. Kearns discussed the role of Gerontechnology in research, practice, and education, and its impact on social policy and technology development. In his paper (start at 20:24), he presented findings from a new biomarker for functional recovery for U.S. veterans with Traumatic Brain Injury (TBI) that is based on real-time location system data analyzed using fractal mathematics (Fractal Dimension). He and colleagues from USF and the James A. Haley V.A. Hospital found Fractal Dimension scores reliably predicted who would benefit most from behavioral interventions to rehabilitate veterans to live independently in the community.
Dr. Kearns stated: "The study of how humans use space is key to our understanding of cognition and mental health. A majority of empirical psychological studies measure time: "response time", "reaction time", "response latency", etc. but far fewer measure space, mostly because micro-level spatial measurement technology (RTLS) has been unavailable until recently. The control and use of space is extremely important to us as humans. Humans will fight fiercely to protect their space; they don't fight over time."
The Friesen annual conference is hosted by the Simon Fraser University (SFU) Gerontology Research Centre, its Lifelong Learning Adults 55+ Program, and its partners, AGE-WELL NCE and the North American chapter of the International Society for Gerontechnology.
For more about Dr. Kearns, see his website or contact him at kearns@usf.edu. View the additional links for more information about the Friesen Conferences and the 2015 conference videos and presentations.
Serving nearly 48,000 students, the University of South Florida is one of the largest public universities in the nation, and among the top 50 universities, public or private, for federal research expenditures. The College of Behavioral & Community Sciences serves more than 2,600 students with six undergraduate, nine masters, and five doctoral programs housed in six academic departments/schools. The Department of Child & Family Studies is home to a number of research centers and initiatives, as well as graduate programs in Applied Behavior Analysis, Child and Adolescent Behavioral Health, Rehabilitation and Mental Health Counseling, and specialty concentrations in behavioral health as part of the Master and Doctoral programs in the COPH Department of Community & Family Health.